Print, Marketing and Technology —
Where Communication is Transformed
Jeff Alexander first founded Alexander's Print Advantage in 1979. Since then this Utah printer has grown to become a full-service print and marketing communications firm.
With over 100 employees, our teams operate 24 hours a day, 6 days a week. This has given Alexander's the fierce reputation of punctual service and innovative solutions.
We work with hundreds of industries and clients from around the globe to deliver creative marketing concepts. Our services include every kind of print job—small and large, traditional and digital.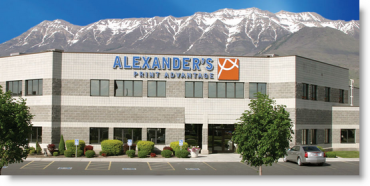 Our Clients
We know that our clients depend on us. That's why we are constantly striving to learn and improve. 
Our success can be found through the amazing success of our clients. In fact, we're proud to work with some of the most talented teams and companies in the world. We fully believe that when you win, we win. 
What Makes Us Different?
Alexander's has been merging technology and print for nearly 40 years. Our strength is in leveraging technology and print to create automated solutions for our customers. We are experts at providing personalized print products for our customers.
As we continue to delve deeper into new and expanding print technology, we are able to grow with your business. With the latest technology, your projects will always stay ahead of the competition.
Alexander's has evolved to be much more than a printer. We're your go-to corporate communications specialists for all of your marketing needs. We love helping clients create one-of-a-kind marketing campaigns. Whether it's a branded Rubik's cube or company gift wrap, we're ready for any idea you throw at us.
Don't be afraid to put us to the test! In fact, if you have any questions or comments just contact us below and see how we can help transform your communication.