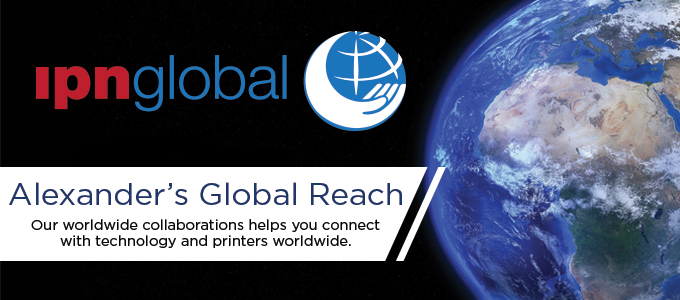 IPN GLOBAL AFFILIATE PARTNER
As part of the International Printers' Network, Alexander's collaborates with more than 50 printers worldwide. This allows us to reach every U.S. state and dozens of foreign countries.
Currently, Alexander's delivers products to every U.S. state and territory and 75 foreign countries.
IPN printers and marketers around the world form a brain trust. In fact, we frequently share technology and information to benefit one another within the exclusive network. Jeff Alexander, Alexander's founder and CEO, served as vice chair of the IPN board.
WHAT DOES THIS MEAN FOR YOU?
As the only member of IPN in Utah, Alexander's global reach is unparallel. We can connect you to printers across the world. Not only will this help reduce your shipping and warehouse costs, but it will also give you peace of mind. 
Perhaps you're holding events in various countries or need a rush print job done in some remote location? With our IPN global capabilities, we can help. 
We once had a client presenting at a conference in France. He arrived at his hotel hours before his presentation only to find out some of his pre-shipped printed materials were stuck in customs.
The client called us in a panic. We immediately contacted our IPN partner in France, who was located 45 minutes from the conference location. We sent them photos of the finished products and shared design files and order information.
Within two hours, our client had replacement materials in his possession. He was completely ready to go despite the unexpected delay of some of his printed materials.
Here at Alexander's our main concern is your success. We'll utilize our IPN partners to help you get quality solutions when and where you need them. No Exceptions.
Partner with Alexander's and You'll Get Alexander's Global Reach