Alexander's loves showing its employees how much we care. And Christmas is the perfect time to do that! The holidays are excellent for boosting employee morale with a festive celebration. We had one of these on Friday, December 22. Check it out and get some ideas for your Christmas celebration next year!
The Setup
Our new Creative Director, Ricky Williamson, stepped up to provide a bright, colorful, and festive atmosphere for our Christmas party. At Alexander's, we like to print all of our own Christmas decorations. It's fun for our design and print teams to create something that will take center stage right here in our facility, where everyone can see it.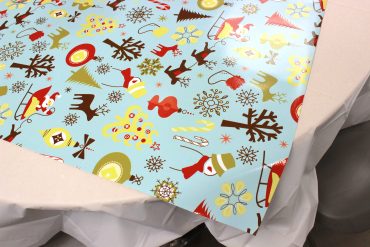 Ricky designed and we printed these fun tablecloths. These are the kinds of things we can use at multiple celebrations, since they're sturdy and easy to clean.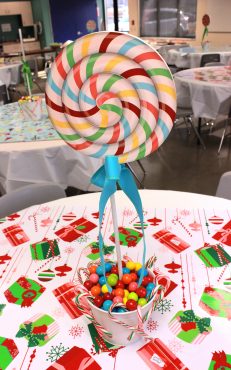 We also used the fun lollipops and bubblegum buckets from our Customer Celebration back in May. Since that also was Christmas-themed, this was a fun callback to a successful year.
You can also see our break room signage, which we keep updated year-round. This Christmas, we decided to go with some fun, bold fonts and bright colors to liven up our break room.
The Food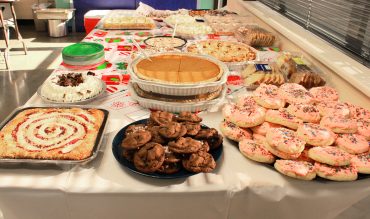 Of course it's not a celebration without food! Our own employees provided much of the food, and we're definitely fond of dessert!
The Swag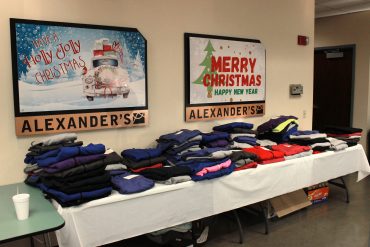 And finally, what is Christmas without presents? Alexander's provided every employee with a sweatshirt or jacket, embroidered with our logo and presented in fun brand colors.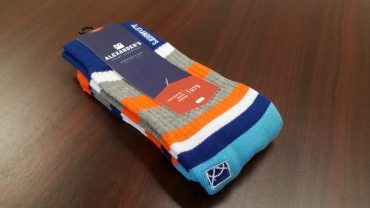 We also got embroidered, specialized socks with Alexander's brand on them! That's right--we can do clothing here as well! And our employees will get to show their pride in their work by wearing these warm jackets and socks to work or around town.
We have had an amazing year, and we hope you have as well! As a reminder, Alexander's will be closed on December 25 for Christmas. This year, we will also not be open on December 26. But we will be back and ready to help you on Wednesday, December 27. We hope you have a very Merry Christmas!