February 3rd, BYU Football announced their 2016 recruiting class, signing 25 new players and welcoming back six players who returned from their LDS missions. It was a big day for BYU, and as we know at Alexander's, big days require exceptional print to make sure both the experience and the atmosphere are spectacular.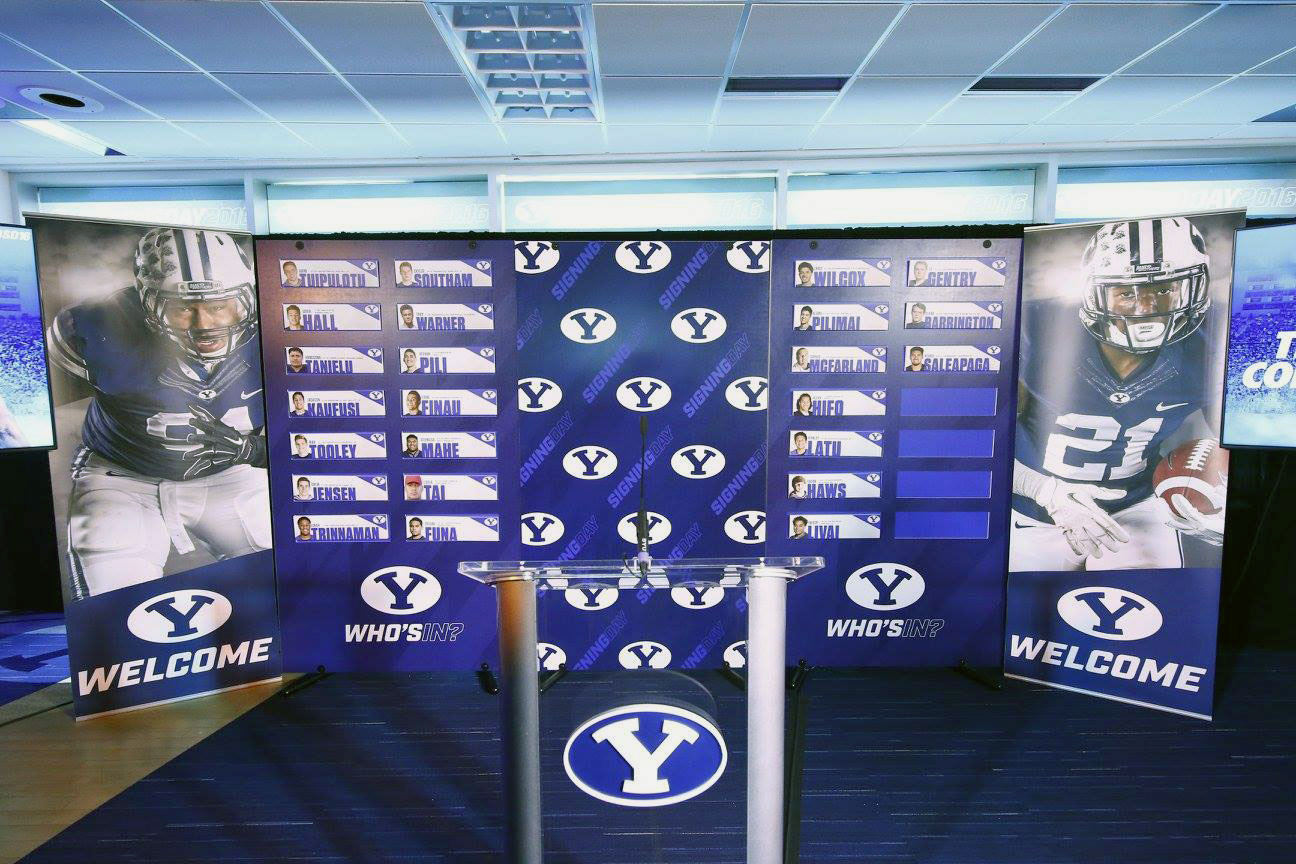 It's about the experience
When you're a nationally-renowned collegiate football program, you can't settle for less than the best. Your fans expect the best. Your players expect the best. That's why BYU has partnered with Alexanders for so many years. BYU Football's signing day is a great example of how Utah's best printing company can completely transform events to create meaningful experiences.
BYU Football wanted to make sure their new players felt a warm welcome. We printed personalized name cards for each signing player which were revealed and added to a backdrop board. Each card was printed on 1/2 inch gator board. The backdrop was made with one-inch gator board. This sturdy material adds a feeling of quality to each card. By introducing players this way, anticipation rose as each player awaited their turn to show up on the board.
BYU Football Signing Day by Slidely Slideshow
For BYU, signing day is also a major press event. Media from across the nation want to know about the players joining the already elite BYU team. Coaches and staff shared comments about each player and their accomplishments as they announced them to give the public a heads up on what will be a great 2016 season. Our gator board backdrop not only created an interactive experience, but also stayed true to BYU football's professional branding for media photos.
When planning your big day, it is important to always remember your audiences. A big day for you, should also be a big day for them. Transform this year's events into experiences your audiences won't soon forget by using creative, interactive print.
Is your organization planning an event this year? Get a head start on planning and customized print today.