We've all faced that blank wall. In schools, homes, or businesses. A blank white wall somehow manages to capture more attention than an office meeting. If you find blank walls interrupting your busy work day or relaxation time, changes must be made.
Avalaunch Media recently finished a custom print order with Alexander's in which they vanquished the white wall in their new office building by using ceiling to floor vinyl.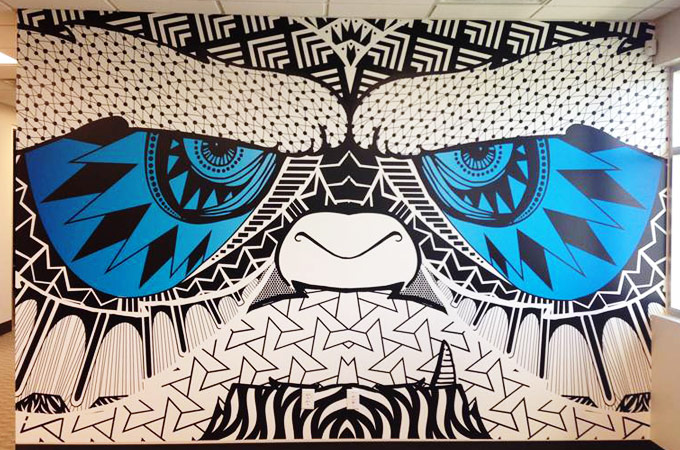 This customized vinyl piece was designed by Avalaunch Media's own Jaclyn Altfillisch, who says, "We wanted to create a wall mural that brought life to the space, and would be fun for everyone to look at ... Eddie the Yeti is our mascot. It seemed like an easy decision to make a piece of art centered around him."
Though first drawn by hand, Jacklyn was able to scan this file into the computer and edit it in Adobe Illustrator to create a vector image. Alexander's took this image and turned it into ceiling to floor customized vinyl with the use of our four color digital printer. With a piece this large, the vinyl had to be printed in separate, grid-like pieces and installed on location to create a monstrous masterpiece.
With Eddie the Yeti preparing for his close up, and Modest Mouse's latest CD playing in the background, another white wall was vanquished.
Regarding the finished product, Jaclyn says, "This wall mural has everyone excited and fits us to a tee! ... We are so happy with the Yeti wall. "
If you're interested in creating something for your office, home, or any other threatening white walls, contact us. We'll help you turn your hand-drawn design into something larger than life.