At Alexander's, we love providing creative print solutions for our clients, and as seen with our Customer Celebration, we also love providing them with a great lunch and free swag so that we can say thank you for your business.
Our clients really enjoyed our surf board invitation last year. Consequently, we wanted to design something that was just as fun and engaging for this year. However, at Alexander's Print Advantage, we aren't content with doing the same old same old. We needed the new invitation to somehow be even better than the last.
Our creative marketing team talked through several ideas for fun pop out elements, including chili peppers, hot sauce bottles, and maracas. When we started talking about printing on wood, however, we realized a mariachi band guitar would be perfect.
Additionally, we wanted to take our new laser printer out for a spin. Inspired by papel picado designs, we carved out every bit of information on our guitars on a sample sheet of paper.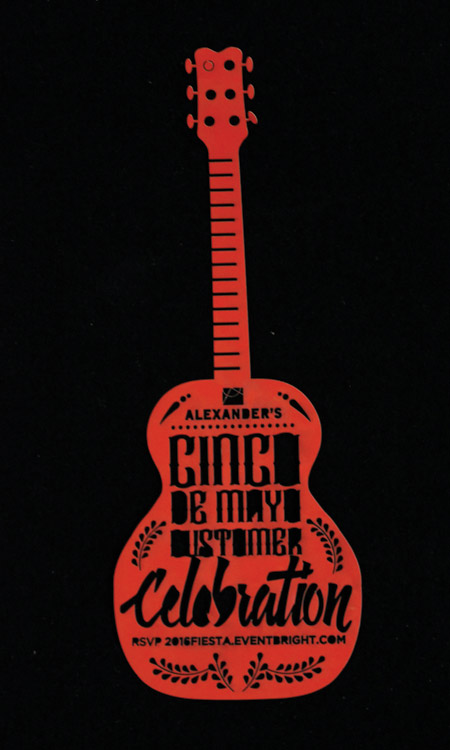 By using a sample paper first, we were able to determine which areas of the design needed some beefing up. Once we made the adjustments, we tested again on our paper thin wood stock.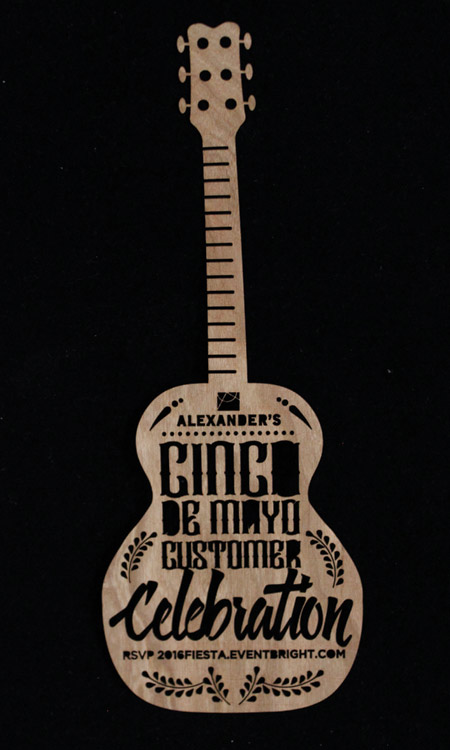 As you can see, there were still a couple of kinks to work out. However, before we spent more time smoothing out the design, we realized an even bigger problem. The time it took to cut out each piece on the laser printer would make us miss our deadline. In addition, the cut out information became difficult to read when set against a Tektured backdrop.
However, design and creativity flourish under pressure. Without sacrificing on design, we realized we could save on time by printing the information and decorative elements in beautiful white ink on our laser-cut guitars.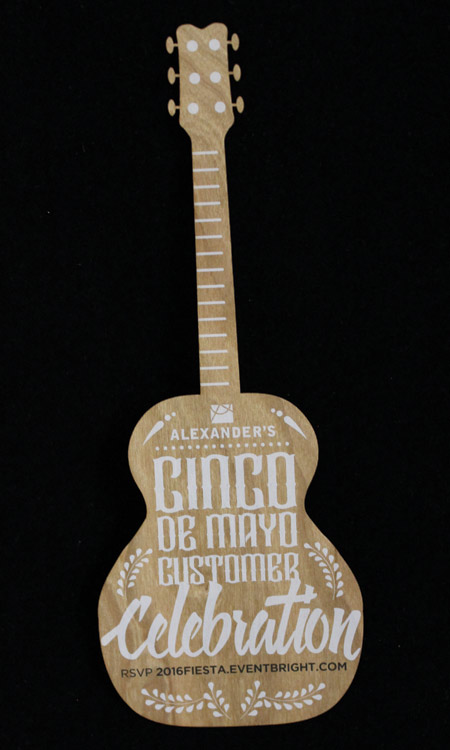 However, when our order of wood stock came in, we stumbled across a different problem - the wood was several shades lighter than we had anticipated!
Undismayed, Alexander's saw this setback as another opportunity to become creative and innovative. If we couldn't print in white ink, then we'd print with bold and festive colors!
By backing the wood against a thick cardstock, we were able to not only create a thicker, more pleasant piece to hold, but to show our new MGI varnish machine's ability, mimicking the texture of wood grain on the back of the invitation.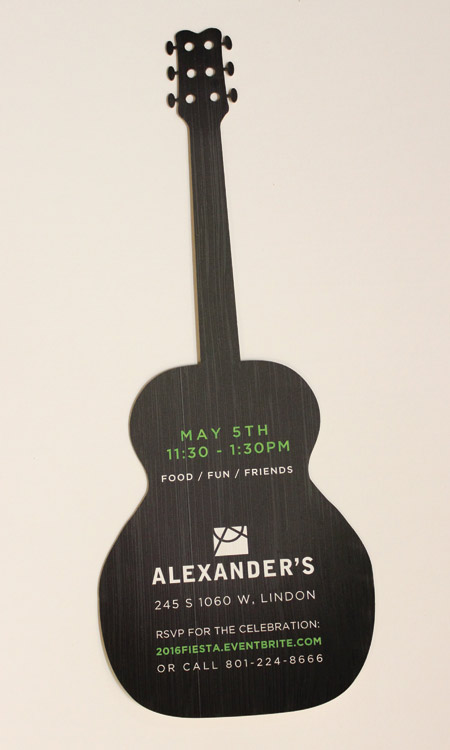 That shimmer and shine sure was a hit for our clients!
Now it was time to design the actual envelope itself. Inspired by the designs of Mexican tiles and fiestas, we made our invitation as loud and appealing as possible.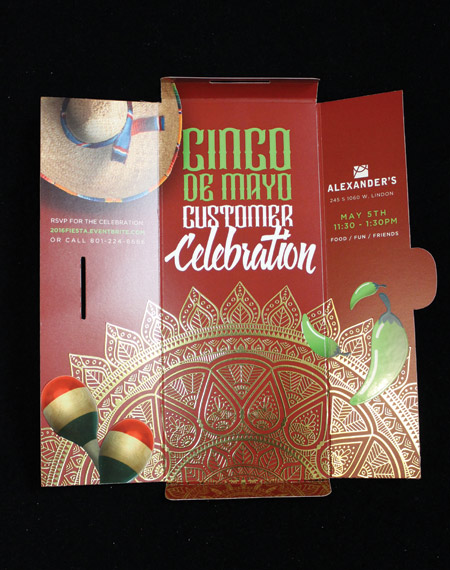 And, to show our clients just how special they are, we added varnish and gold foil to the decorative elements.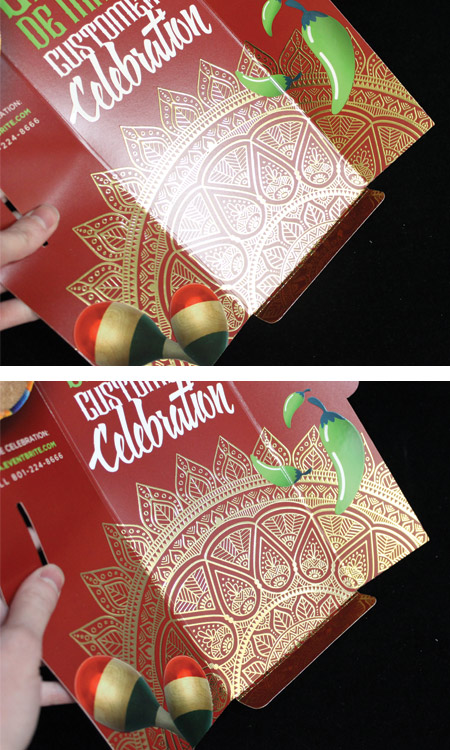 As for the outside of the envelope, we chose as bright, bold, festive colors as possible. The lime green was sure to catch attention, and if that wasn't enough, we also applied a varnish based off of a lattice. If our clients didn't see the invitation, they were certain to feel the difference as they pulled it out of their mailboxes!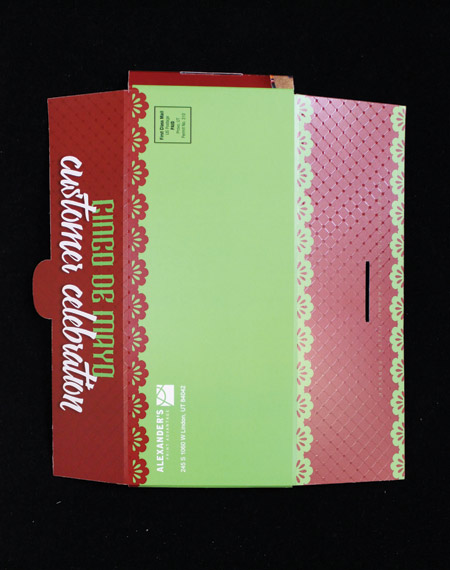 Last but not least, we applied our custom designed sombrero sticker to the tab to make sure the guitar stayed securely inside the envelope. Then, to ensure that the envelope tab wouldn't get torn or bent in transit, we added one last layer of protection: two white stickers on either end.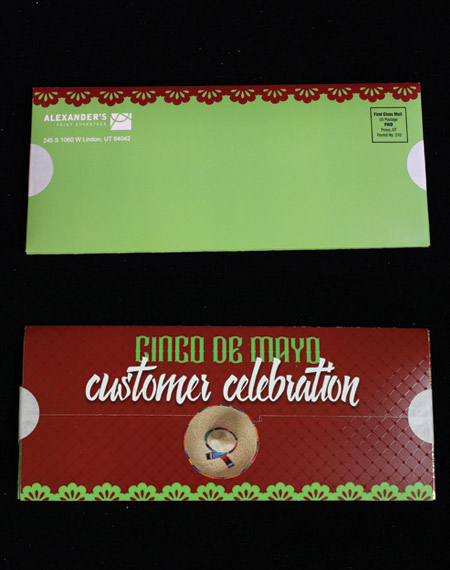 Put all together, this invitation was a smashing success.
Alexander's is known for creative print and marketing solutions. If you are looking for a way to create an eye-catching direct mail piece for your next event or promotion, Alexander's can help! Contact us in the form below to get started.