Using stickers for packaging or promotional materials can be easy, fun, and effective. Now, with the power of digital foil and varnish, you can take your sticker design to a whole new level - literally!
It used to be that in order to apply foil or varnish to anything, expensive dies would need to be ordered which would take time and money. But at Alexander's Print Advantage, our digital MGI machine allows us to print foil at a much more affordable price and even get you same day foil and varnish. This means applying foil and varnish to something as simple as a sticker can be affordable and have lasting effects. Take a look at our techniques in action:
Designing Stickers
Every few months or so, we enjoy redesigning the packaging of the complementary cookies we give to our clients at Alexander's (see our previous sticker designs and process here). Our MGI JETvarnish and iFOIL machine has been very popular ever since we integrated it earlier this year, and what better way to show off its beautiful ability than with a cookie that says Thank You for your business? Look at the way that foil shimmers and shines!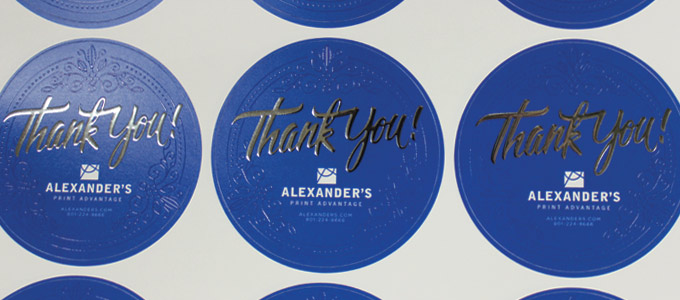 Once the stickers are designed, the background is printed directly to the adhesive sticker paper, making future application easy.
Next, the stickers run through our MGI machine in two sweeps: one to apply the varnish, and another to apply the foil. Many people apply varnish to accent designs printed on their product. We instead chose to print the varnish on a clear blue background to create a beautiful, ghostly effect (Click here to see what else is possible with digital foil and varnish).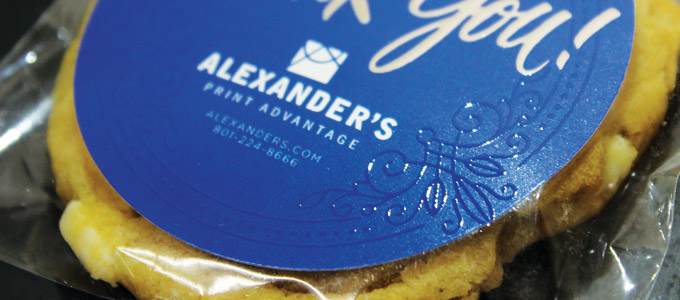 Once sufficient time is given for the varnish/foil to adhere and dry, it's ready to go (yes, that fast!) Peel and stick for beautiful packaging, and even same day application.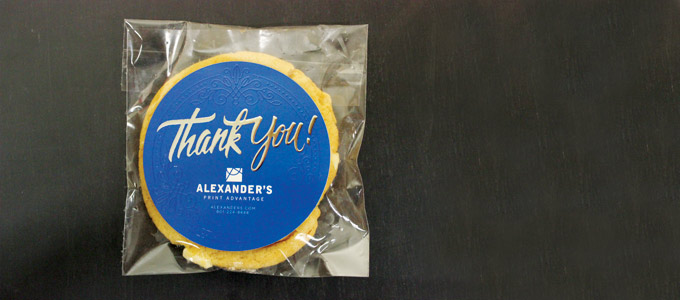 Interested in Digital Foil and Varnish?
Though located in Lindon, Utah, Alexander's Print Advantage ships all across the nation! Talk to us today to begin the process of designing and printing digital foil and digital varnish on your packaging.