Alexander's print production team works six days a week around the clock. And to make matters more interesting? Our facility is 45,000 sq ft and full of paper substrates and various printing equipment. How does a building so large and productive stay so organized? The answer is simple: print.
Organization is Key
Being and staying organized is the key to being successful in our industry. Why? There is nothing worse than putting in an order and waiting for it only to be late and wrong. Imagine waiting for your food order at your favorite local lunch spot. You waited twice as long as the other customer's and you left with a sandwich instead of a burger and onion rings instead of fries. That would be pretty disappointing, wouldn't it? The same goes for print!
Our number one rule at Alexander's is to always deliver our products on time. This means that a customer's printing collateral (sign, brochure, standee, etc) cannot be late. Similarly, like your lunch order, it cannot be incorrect! It must be the right paper weight, matte (or gloss!), size, color, etc.
So why is it so important to stay organized? With a large variety of paper substrates and a warehouse full of different equipment, staying organized avoids tardiness and potential mistakes. We know that if there is organization, there is success.
Signs, Labels and Magnets.
Alexander's printing warehouse is broken up into several departments, including materials, wide format, black and white printers, Indigo 10000 and MGI JETVarnish and IFOIL press, shipping and fulfillment, and more. Each department is separated with Alexander-branded signage, and labels have been applied to various areas to clearly identify particular materials and equipment. Most useful and potentially most important, however, is the materials department of the warehouse.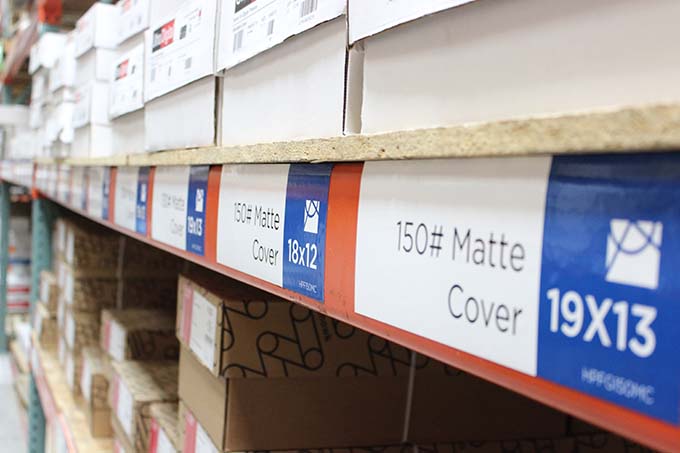 With so many different kinds, weights, and mattes (or glosses!) of paper, it is important for our production team to be able to clearly identify the differences between each. Our in-house creative designer created on-brand descriptive magnets to help with this matter (see picture above). You can get a small glimpse of the large variety of substrates we offer, and see how the magnets identify the type and size of each.
Do you need help staying organized in your warehouse or business facility? Let us help you! Call our office at 801-224-8666 or fill out the contact form below. Talk to you soon!