Essential Keyboard Shortcuts
Keyboard shortcuts or commands are combinations of certain keyboard keystrokes to perform an action quickly without having to click through menus or find the right option. For example, to copy a string of highlighted text you could either right click and find the 'Copy' option, or simply hit ⌘(Ctrl on Windows) and C. Below are many of the most important and convenient keyboard shortcuts including an exhaustive list of shortcuts to use with Adobe's graphic design trifecta: Illustrator, InDesign, and Photoshop.
If you have any questions or are ready to talk to one of our specialists about your next print project, please Contact Us.
General Commands:
These commands work in most programs as specified below.
| | | Description |
| --- | --- | --- |
| ⌘ + | Ctrl + | Zoom in |
| ⌘ - | Ctrl - | Zoom out |
| ⌘ C | Ctrl C | Copy: copies highlighted text or element to clipboard to paste elsewhere. |
| ⌘ X | Ctrl X | Cut: cuts hightlighted text or element to clipboard to paste elsewhere. |
| ⌘ V | Ctrl V | Paste: pastes content from clipboard. |
| ⌘ P | Ctrl P | Print |
| ⌘ Z | Ctrl Z | Undo |
| Shift-⌘ Z | Shift-Ctrl Z | Redo |
| ⌘ A | Ctrl A | Select All |
| ⌘ F | Ctrl F | Find: allows you to search for specific text in webpage or document. |
| ⌘ N | Ctrl N | New: opens a new document or window. |
| ⌘ S | Ctrl S | Save: saves current progress in a document. If the document is unsaved to that point, a dialogue box will appear asking for save settings/location. |
| ⌘ W | Ctrl W | Close: closes the frontmost window. |
| ⌘ Q | Ctrl Q | Quit: quits/ends the current program. |
| Shift-⌘ Esc | Ctrl-Alt-Delete | Force quit: allows you to select which program or task to force quit. |
Adobe Commands:
| | | Description |
| --- | --- | --- |
| Option-Drag | Alt-Drag | Duplicates object |
| ⌘ F | Ctrl F | Paste in front |
| ⌘ B | Ctrl B | Paste in back |
| ⌘ { | Ctrl { | Send backward |
| ⌘ } | Ctrl } | Send forward |
| Shift-⌘ { | Shift-Ctrl { | Send to back |
| Shift-⌘ } | Shift-Ctrl } | Send to front |
| Shift-Drag | Shift-Drag | Constrain proportions |
| ⌘ G | Ctrl G | Group: groups elements into one element. |
| ⌘ J | Ctrl J | Join: joins multiple paths into one. |
| ⌘ D | Ctrl D | Duplicate: used as a shortcut for repeating a function that was just performed. |
| Shift-⌘ P | Shift-Ctrl P | Place: place will allow you to browse computer files to select an image or file to place into the current document. |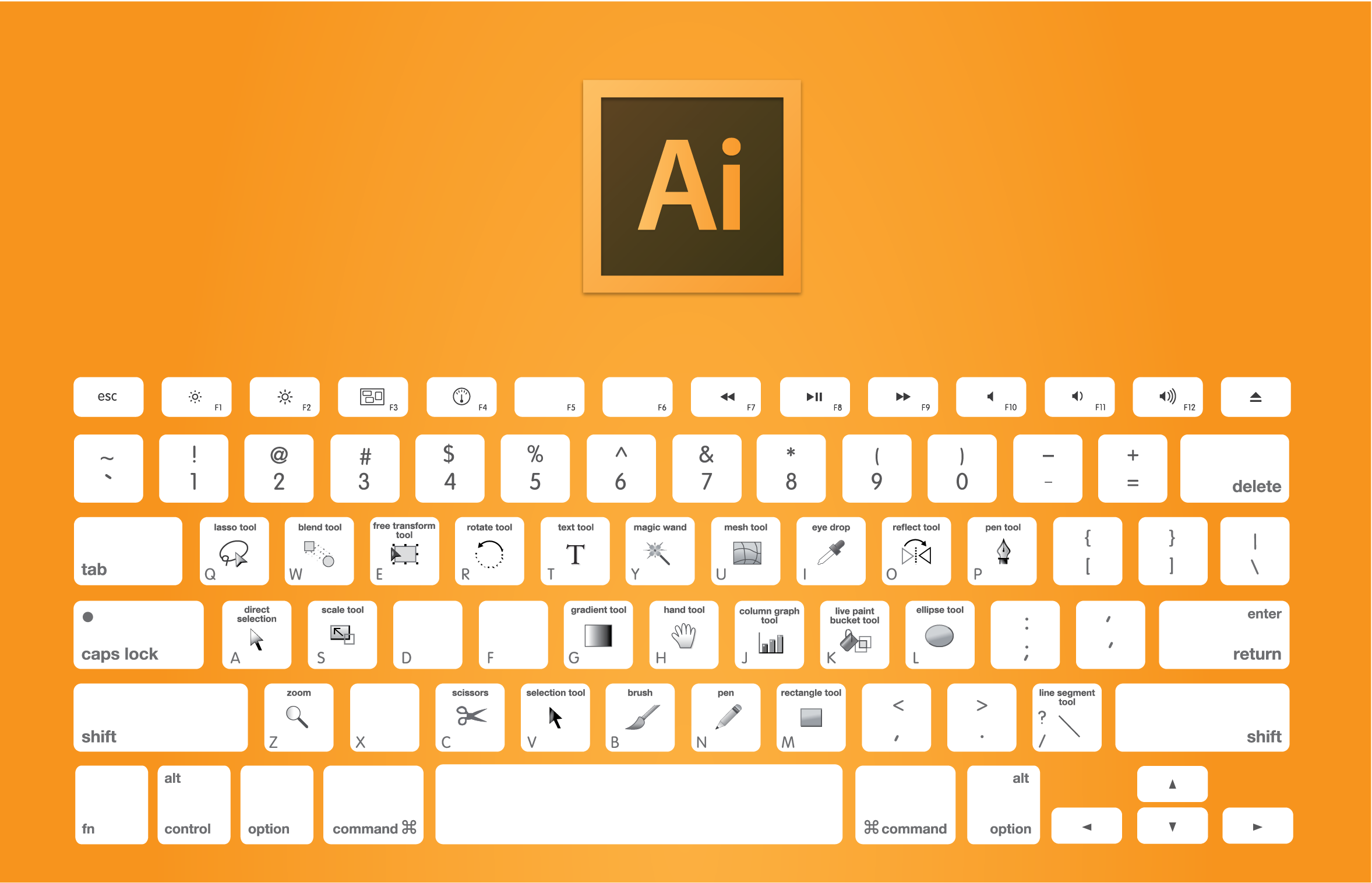 | Tools Shortcuts | |
| --- | --- |
| Selection | V |
| Direct Selection | A |
| Group Selection | Shift |
| Magic Wand | Y |
| Lasso | Q |
| Pen | P |
| Add Anchor Point | + |
| Delete Anchor Point | - |
| Convert Anchor Point | Shift+C |
| Type | T |
| Touch Type | Shift+T |
| Line Segment | \ |
| Rectangle | M |
| Ellipse | L |
| Paintbrush | B |
| Pencil | N |
| Blob Brush | Shift+B |
| Artboard | Shift+O |
| Tools Shortcuts | |
| --- | --- |
| Eraser | Shift+E |
| Scissors | C |
| Rotate | R |
| Reflect | O |
| Scale | S |
| Width | Shift+W |
| Warp | Shift+R |
| Free Transform | E |
| Shape Builder | Shift+M |
| Live Paint Bucket | K |
| Live Paint Selection | Shift+L |
| Perspective Grid | Shift+P |
| Perspective Selection | Shift+V |
| Mesh | U |
| Gradient | G |
| Eyedropper | I |
| Blend | W |
| Symbol Sprayer | Shift+S |
| Tools Shortcuts | |
| --- | --- |
| Column Graph | J |
| Slice | Shift+K |
| Hand | H |
| Zoom | Z |
| Toggle Fill and Stroke | X |
| Default Fill and Stroke | D |
| Swap Fill and Stroke | Shift+X |
| Gradient | . |
| Color | , |
| None | / |
| Toggle 3 Screen Modes | F |
| Show/Hide All Panels | Tab |
| Show/Hide All But Toolbox | Shift+Tab |
| Increase Diameter | ] |
| Decrease Diameter | [ |
| Symbolism Tools: Increase | Shift+} |
| Symbolism Tools: Decrease | Shift+{ |
| Toggle Drawing Mode | Shift+D |
| Tools Shortcuts | |
| --- | --- |
| Selection | V |
| Direct Selection | A |
| Group Selection | Shift |
| Magic Wand | Y |
| Lasso | Q |
| Pen | P |
| Add Anchor Point | + |
| Delete Anchor Point | - |
| Convert Anchor Point | Shift+C |
| Type | T |
| Touch Type | Shift+T |
| Line Segment | \ |
| Rectangle | M |
| Ellipse | L |
| Paintbrush | B |
| Pencil | N |
| Blob Brush | Shift+B |
| Artboard | Shift+O |
| Eraser | Shift+E |
| Scissors | C |
| Rotate | R |
| Reflect | O |
| Scale | S |
| Width | Shift+W |
| Warp | Shift+R |
| Free Transform | E |
| Shape Builder | Shift+M |
| Live Paint Bucket | K |
| Live Paint Selection | Shift+L |
| Perspective Grid | Shift+P |
| Perspective Selection | Shift+V |
| Mesh | U |
| Gradient | G |
| Eyedropper | I |
| Blend | W |
| Symbol Sprayer | Shift+S |
| Column Graph | J |
| Slice | Shift+K |
| Hand | H |
| Zoom | Z |
| Toggle Fill and Stroke | X |
| Default Fill and Stroke | D |
| Swap Fill and Stroke | Shift+X |
| Gradient | . |
| Color | , |
| None | / |
| Toggle 3 Screen Modes | F |
| Show/Hide All Panels | Tab |
| Show/Hide All But Toolbox | Shift+Tab |
| Increase Diameter | ] |
| Decrease Diameter | [ |
| Symbolism Tools: Increase | Shift+} |
| Symbolism Tools: Decrease | Shift+{ |
| Toggle Drawing Mode | Shift+D |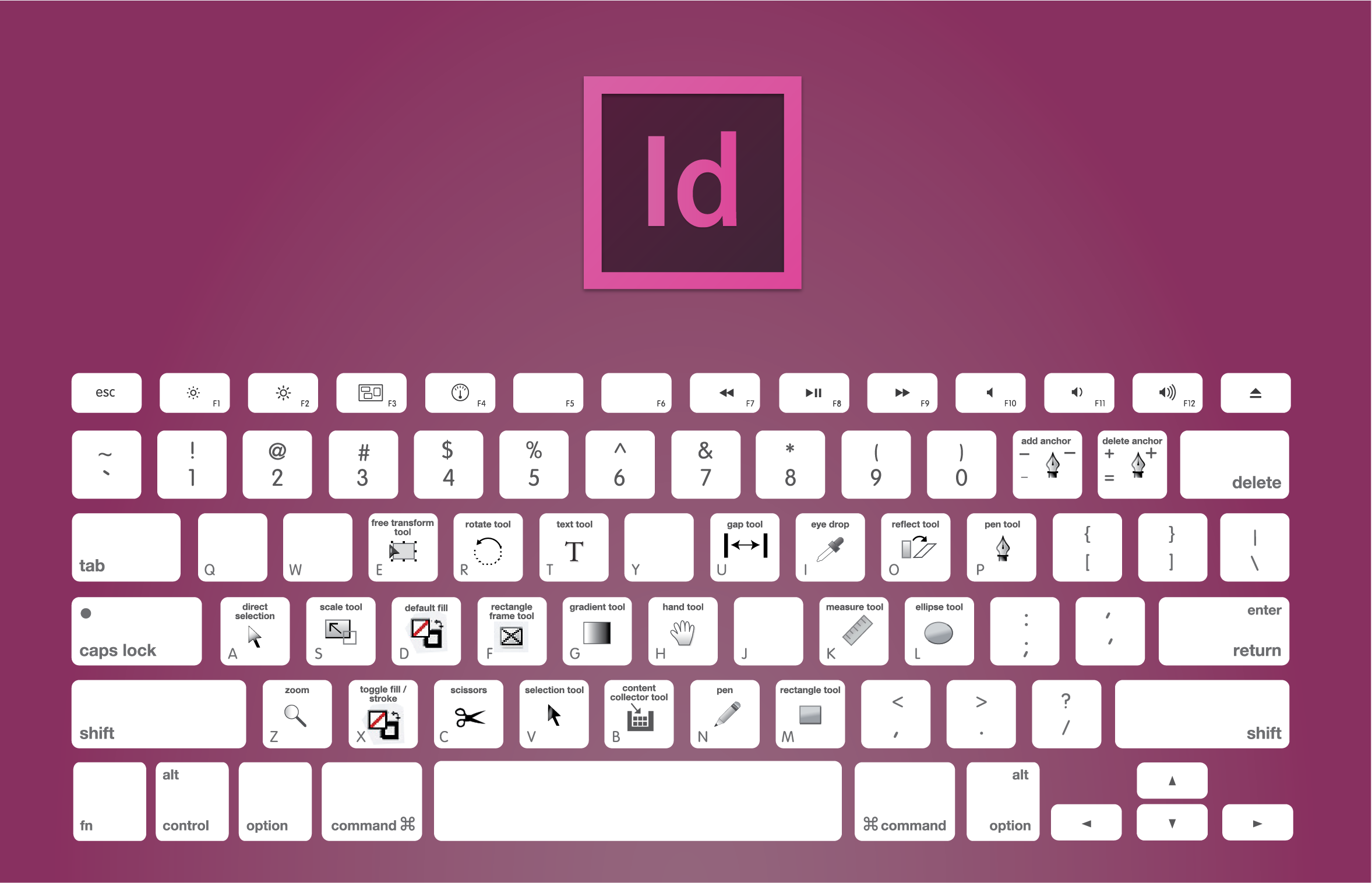 | Tools Shortcuts | |
| --- | --- |
| Selection | V, Esc |
| Direct Selection | A |
| Toggle Selection and Direct | ⌘/Ctrl+Tab |
| Page | Shift+P |
| Gap | U |
| Pen | P |
| Add Anchor Point | = |
| Delete Anchor Point | - |
| Convert Direction Point | Shift+C |
| Type | T |
| Type On Path | Shift+T |
| Pencil (Note) | N |
| Line | \ |
| Tools Shortcuts | |
| --- | --- |
| Rectangle Frame | F |
| Rectangle | M |
| Ellipse | L |
| Rotate | R |
| Scale | S |
| Shear | O |
| Free Transform | E |
| Eyedropper | I |
| Measure | K |
| Gradient | G |
| Scissors | C |
| Hand | H |
| Temporarily Selects Hand | Spacebar |
| Tools Shortcuts | |
| --- | --- |
| Zoom | Z |
| Temporarily Selects Zoom | ⌘/Ctrl Spacebar |
| Toggle Fill and Stroke | X |
| Swap Fill and Stroke | Shift+X |
| Toggle Between Formatting Affects Container and Text | J |
| Apply Color | , |
| Apply Gradient | . |
| Apply No Color | / |
| Switch Between Normal and Preview View Mode | W |
| Frame Grid (Horizontal) | Y |
| Frame Grid (Vertical) | Q |
| Gradient Feather | Shift+G |
| Tools Shortcuts | |
| --- | --- |
| Selection | V, Esc |
| Direct Selection | A |
| Toggle Selection and Direct | ⌘/Ctrl+Tab |
| Page | Shift+P |
| Gap | U |
| Pen | P |
| Add Anchor Point | = |
| Delete Anchor Point | - |
| Convert Direction Point | Shift+C |
| Type | T |
| Type On Path | Shift+T |
| Pencil (Note) | N |
| Line | \ |
| Rectangle Frame | F |
| Rectangle | M |
| Ellipse | L |
| Rotate | R |
| Scale | S |
| Shear | O |
| Free Transform | E |
| Eyedropper | I |
| Measure | K |
| Gradient | G |
| Scissors | C |
| Hand | H |
| Temporarily Selects Hand | Spacebar |
| Zoom | Z |
| Temporarily Selects Zoom | ⌘/Ctrl Spacebar |
| Toggle Fill and Stroke | X |
| Swap Fill and Stroke | Shift+X |
| Toggle Between Formatting Affects Container and Text | J |
| Apply Color | , |
| Apply Gradient | . |
| Apply No Color | / |
| Switch Between Normal and Preview View Mode | W |
| Frame Grid (Horizontal) | Y |
| Frame Grid (Vertical) | Q |
| Gradient Feather | Shift+G |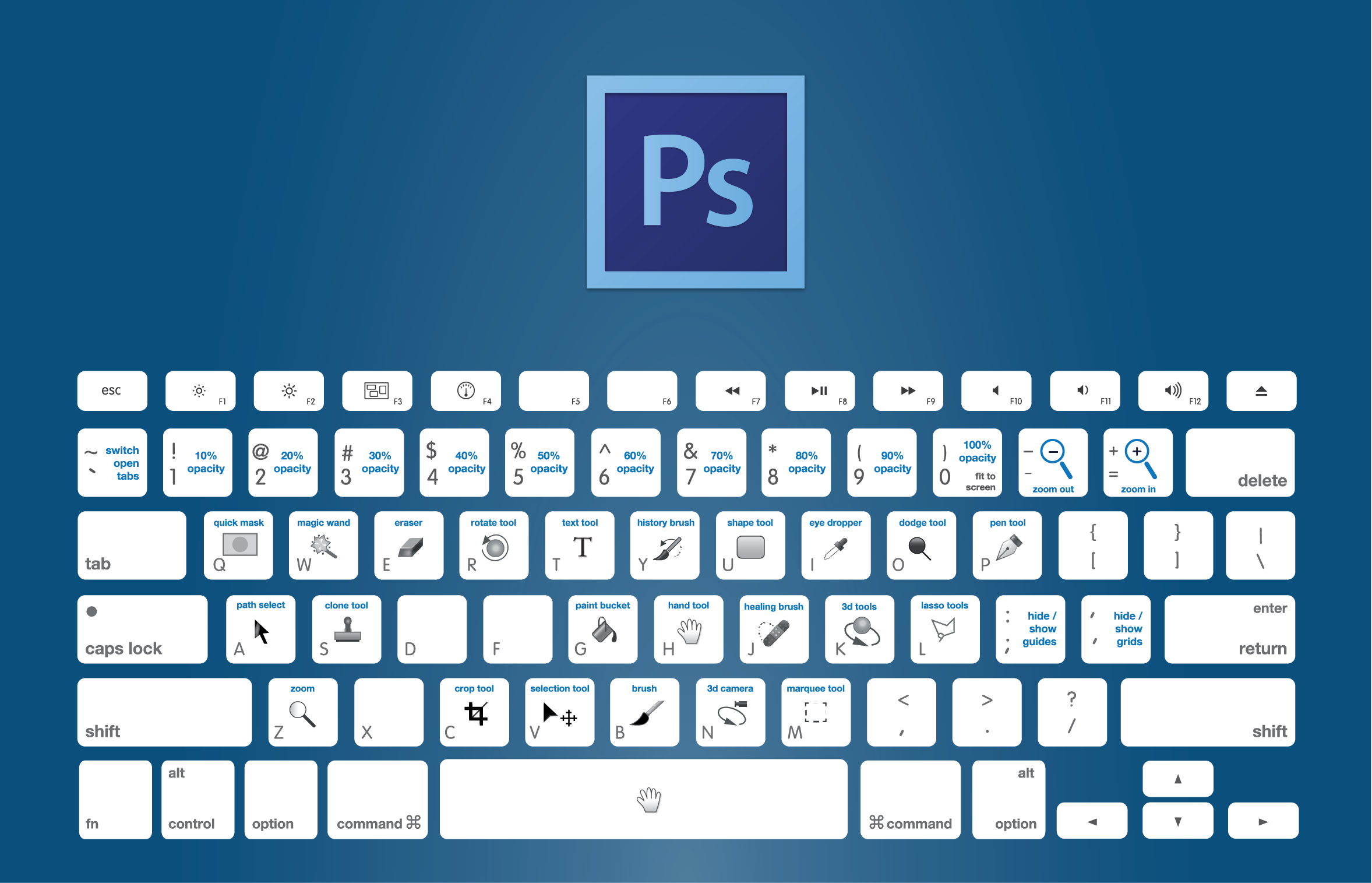 | Tools Shortcuts | | |
| --- | --- | --- |
| Move | V | V,0 |
| Rectangular Marquee | M | V,0 |
| Elliptical Marquee | M | A,1 |
| Lasso, Polygonal Lasso | L | M |
| Magnetic Lasso | L | L |
| Magic Wand | W | L |
| Quick Selection | W | C |
| Crop | C | C |
| Slice | C | W |
| Slice Select | C | N |
| Eyedropper | I | P |
| Color Sampler/Ruler/Note Tools | I | U |
| Count | I | T |
| Spot Healing Brush, Red Eye | J | B |
| Healing Brush, Patch | J | P |
| Clone and Pattern Stamp | S | O |
| Tools Shortcuts | | |
| --- | --- | --- |
| History and Art History Brush Tools | Y | Y |
| Eraser, Background Eraser, and Magic Eraser | E | E |
| Gradient, Paint Bucket | G | G |
| Dodge, Burn, and Sponge | O | O |
| Pen, Freeform Pen | P | P |
| Horizontal and Vertical Type/Type Mask Tools | T | T |
| Path and Direct Selection | A | A |
| Rectangle, Ellipse, Polygon, Line, and Custom Shape Tools | U | U |
| 3D Object Rotate, Roll, Pan, Slide, and Scale | K | K |
| 3D Camera Rotate, Roll, Pan, Walk, and Zoom | N | N |
| Hand | H | H |
| Rotate View | R | R |
| Zoom | Z | Z |
| Brush, Pencil, Color Replacement, and Mixer Brush Tools | B | Q |
| Tools Shortcuts | | |
| --- | --- | --- |
| Move | V | V,0 |
| Rectangular Marquee | M | V,0 |
| Elliptical Marquee | M | A,1 |
| Lasso, Polygonal Lasso | L | M |
| Magnetic Lasso | L | L |
| Magic Wand | W | L |
| Quick Selection | W | C |
| Crop | C | C |
| Slice | C | W |
| Slice Select | C | N |
| Eyedropper | I | P |
| Color Sampler/Ruler/Note Tools | I | U |
| Count | I | T |
| Spot Healing Brush, Red Eye | J | B |
| Healing Brush, Patch | J | P |
| Clone and Pattern Stamp | S | O |
| History and Art History Brush Tools | Y | Y |
| Eraser, Background Eraser, and Magic Eraser | E | E |
| Gradient, Paint Bucket | G | G |
| Dodge, Burn, and Sponge | O | O |
| Pen, Freeform Pen | P | P |
| Horizontal and Vertical Type/Type Mask Tools | T | T |
| Path and Direct Selection | A | A |
| Rectangle, Ellipse, Polygon, Line, and Custom Shape Tools | U | U |
| 3D Object Rotate, Roll, Pan, Slide, and Scale | K | K |
| 3D Camera Rotate, Roll, Pan, Walk, and Zoom | N | N |
| Hand | H | H |
| Rotate View | R | R |
| Zoom | Z | Z |
| Brush, Pencil, Color Replacement, and Mixer Brush Tools | B | Q |
[cherry_fixed_parallax src_poster="" invert_value="yes" custom_class="cherry_fixed_parallax1"] [service_box title="" subtitle="" icon="no" text="" btn_text="Contact Us" btn_link="contact" btn_size="normal" btn_hover_color="#c24d00" target="_self" custom_class="text_banner wow fadeIn"] [/cherry_fixed_parallax]