With wedding season in full bloom, brides-to-be turn to print and fulfillment services to create unique, colorful wedding announcements and invitations. Alexander's provides your wedding card business with an easy-to-use service that will thrill your clientele and provide them with cutting-edge technology like never before.
Changing the Industry
Before Alexander's, other companies limited the options available to brides-to-be. They may have restricted sizes, paper types, colors, and finishes, if they gave options at all. Or, these options were available, but only at great cost or at a slow pace.
When Alexander's entered the scene by printing wedding invitations for our clients, however, we promptly changed the entire industry. Our web to print automation and digital finishing technology makes high-quality, high-speed products available to any business. We also introduced new sizes and customization options for invitations and other wedding collateral, such as photo books.
Our clients' sales skyrocketed once we altered the industry to suit the needs of customers nationwide. Likewise, we can benefit your business with our automation and leading edge printing technology.
Print Automation with Alexander's
Our easy-to-use web to print storefronts and API make it simple for your clients to submit an order for us to fulfill. A bride-to-be can use a white-label storefront created with your logo to order invitations to her specifications, including color, fonts, and digital foil embellishments.
Then, because we print on-site, Alexander's can batch your order one day and ship the next. We also have less room to make costly mistakes because we don't outsource our products. There will be no middleman between your business and Alexander's!
Fulfillment
Not only will Alexander's print your invitations for you; we can ship them out as well! We'll save both your clients and you the strain of addresses, regardless of the number of guests.
With our digital MGI press, we can also use variable data on your clients' invitations. That means we can apply individual names to every invitation—foiled or printed—to the cards or envelopes without creating a separate design for each. This saves you and your clients time between placing the order and receiving the finished invitations.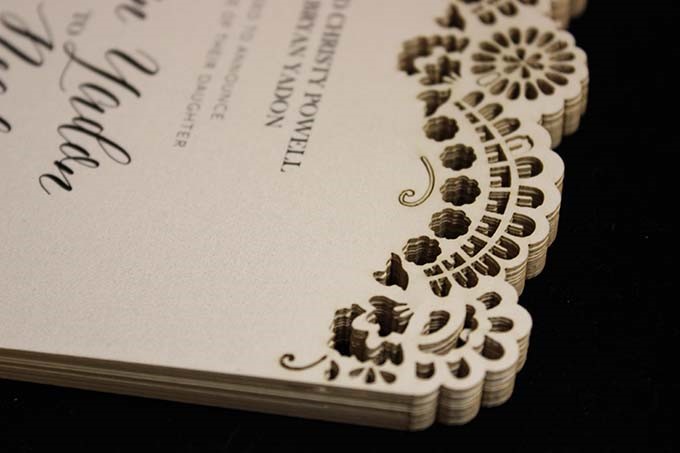 Laser Cut Options
Brides-to-be like to feel unique. You can help them achieve this by utilizing our laser cutter to customize your invitations. This extra touch can give a lacy edge to cards. Plus, that texture utilizes important elements of touch marketing, which is appealing to brides as well as your business. Customers handling your card gain a stronger bond with the product, which helps them the important printed details and become more interested in becoming your future clients.
You can also use unique shapes for your invitations by using our laser cutter. Or, create your own marketing collateral with lace edges or cutouts!
Foil and Digital Spot Varnish
With our MGI JETvarnish and iFoil Press machines, we can give your cards an unforgettable finish. We automate this process as well, so making your invitations shine won't slow you down or create more hassle for you.
Beyond Invitations
Alexander's automates more than just announcements and invitations for your clients. We can add extras to your storefront, like save the date cards, place cards, thank you cards, and more. Your business doesn't have to accept limits when it comes to benefiting your wedding clients.
Get a jump on wedding season today!