We're pleased to continue taking you behind the scenes of our Customer Celebration 2017! This time, we're showcasing everything we gave our customers as part of our samples and giveaways. We created several useful and creative samples to showcase what we can do for print collateral around the office, or just for fun!
Invitations
Our custom invitations introduced the look of the entire event with cheerful holiday illustrations. Each invitation printed on our HP Indigo Full Color Digital Press. Then they had digital spot varnish and foil treatments front and back for an extra burst of creative touch marketing.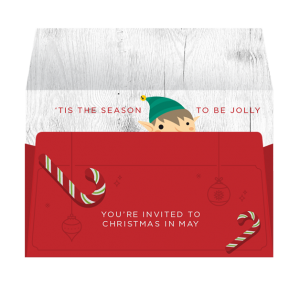 They fit perfectly into beautiful PearlIce paper envelopes hit with just a touch of spot varnish. Plus, our guests saw a surprise visitor peeping out!
Journals
To show off our MGI capabilities, we created beautiful journals to give away. These three perfect-bound journals showcase spot varnish and foil enhancements, and were some of our most popular items! We also included spiral-bound and saddle-stitched books in the mix for variety. All contained a spot grid-style notepaper--perfect for taking notes or doodling in any size or direction!
Rulers
Every office needs a ruler! These full-color rules with custom logos make great giveaway items for both Alexander's and our customers.
Luggage Tags
Going on vacation? Alexander's can help with that too! We made these bright and festive holiday luggage tags for our clients' next holiday vacation. Printed on acrylic, these tags won't tear or wear down, meaning you can use them as long as you want! And there'll be no mistaking your bag on the luggage carousel with such a bright tag!
Docupads
If you spend a lot of time on the phone, you probably have a notepad near your mouse to take notes. But we at Alexander's took it a step further and made a mouse pad that is also a note pad! Take convenient notes right next to your mouse one second, and pull up a reference browser window the next. Though all of these carried Alexander's logo, we can put your logo on these as well to help strengthen your brand within the office!
Candy Bags
When lunchtime ends, what better way to satisfy your sweet tooth throughout the rest of the week (or day!) with Christmas candy? So we created candy bags to go along with our candy table. These full color bags had velvet lamination with a dash of digital spot varnish for an extra fun pop of texture.
Custom Wrapping Paper
Taking center stage at our sample area were dozens of samples of wrapping paper. We wanted to showcase our variable data and customizable options, so we created samples with our attendees' logos printed into the patterns. We also printed options with the local universities' sports teams for any football and basketball fans, and plain options.
These samples came in one size: 20 x 29 inches. These smaller custom sizes make it easy to wrap single or small gifts. Why waste money on a whole roll you won't use? Of course, we also have the option to create a whole roll of custom wrapping paper with your logo. It's all up to you!
We hope you've enjoyed this behind the scenes look at our giveaway items! If you're curious about getting some of these items for yourself, for office or event use, please contact us in the form below!