We all know that paper beats rock, but how does it do when it goes up against other materials?
Print marketing is often overlooked as a thing of the past. What most people don't realize is that technology is helping this marketing tactic become even more powerful—that is if you know how to use it. The secret to effective print marketing is to make it relevant to the needs of your audiences. However, many marketers focus so much on this point that they fail to realize that their design needs to stand out as well.
People reward creative messaging with sales; that's why marketers are okay spending millions on Superbowl and billboard ads. If you want to spice up your print marketing, think about changing it up. One way that you can do this is by printing on different materials. Here are four unique materials that you can print on to make your brand messaging stand out.
Wood
Wood adds a special texture to the look and feel of objects that paper never will. It's rustic nature evokes emotions on sight. The great thing about printing on wood is that you can combine it with so many other printing tactics, like foil varnish and laser cutting.
Imagine a custom business card printed on wood in the shape of a guitar from a music shop. This card would be a lot more memorable than a simple square cut card with a picture on it. Many people are worried about the rigidity of wood printing. However, this concern is easily bypassed. By combining different materials, we can make your printed wood flexible enough to bend and roll, or strong enough to hold its form, even under pressure.
Here is a guitar we made for our customer celebration event this year.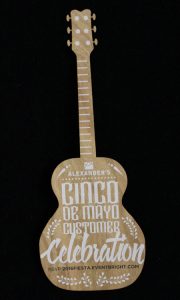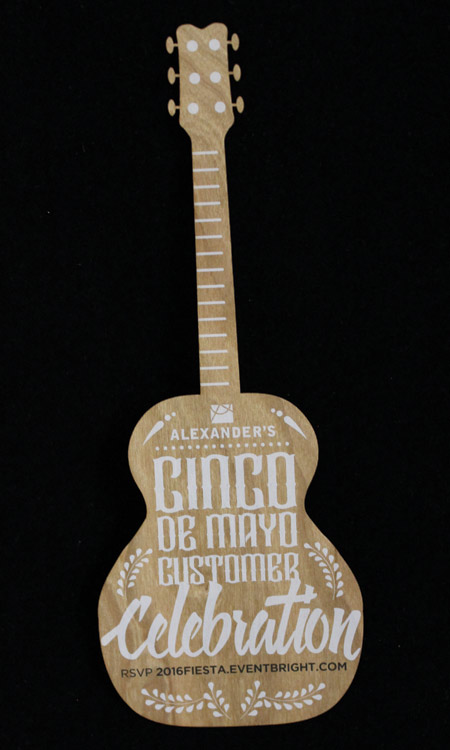 Glass
Glass is perfect for glamorous pieces such as awards, bios, or decorations. This material adds elegance to your design and to your product. Despite being pretty transparent, it will catch the eye of all that pass it. It is something that will last a long time, so if you are looking for a long term look, think about printing on glass.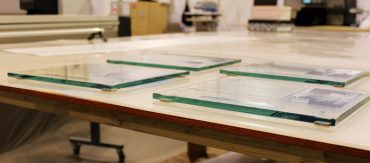 Plastic
Plastic is very versatile. Our machines not only let us print on flat plastic sheets but also allows us to print on rounded surfaces as well. Want to put your CEO's face on a golf ball? We can do that! It is also a great material for outdoor signs and long-term stands. Add foil to your design and we promise it will stand out from the crowd. Just check out this signage we made for HireVue's event!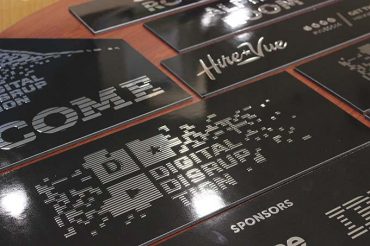 Metal
This material is great for a sleek modern look. Just like glass, it is great for messages that you want to last a long time. Metal gives designs a more powerful feeling. It is UV coated, so you don't have to worry about sacrificing quality. This coating protects against finger prints, scratches and dents. If you want your brand to be thought of as a powerful player in the market, think about printing on metal.
Whatever design you choose think about mixing it up by printing on a unique surface. Here at Alexanders we can also print on objects such as magnets, vinyl, Falconboard, foam, stickers and fabrics. You worked too hard your strategy and design to let it get lost in a sea of paper. Stand out by printing different.
Need help? Talk with our creative team! They can help you find the best option for your marketing plan. Contact us below with any questions or call us at 801-224-8666.