Last week, we posted about our 2017 Customer Celebration luncheon, themed around Christmas in May. When we hold such a big celebration, we like to show off what Alexander's can do! So we created plenty of creative signs and giveaway items. That way, our guests could see our capabilities and learn what they could do with their own marketing materials in the future.
Building Signage
To fit with our theme, we made our building signage and decoration bright and festive--like a winter wonderland! Our banner--hung on the outside of our building so visitors could easily spot us--was printed on vinyl with our wide format printer.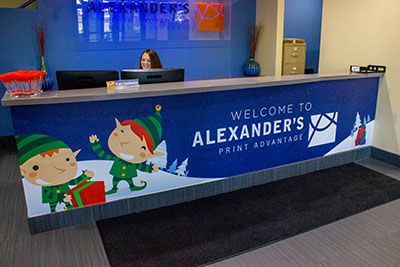 Wide format played a huge role in creating our signs and decorations. We also printed our front desk banner the same way, using 18 oz. vinyl.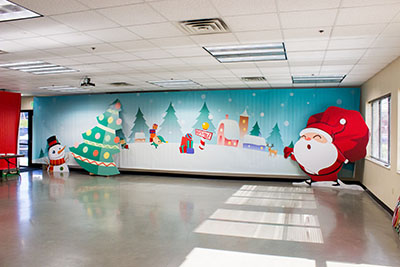 In our lunchroom, we added foamcore boards, printed on our flatbed printer, to create this 9-foot Christmas tree and our 6-foot Santa Claus.
Wide Format Banners
Our wide format printer went to use with more than just our Christmas decorations. We created other banners, which will stay up in our warehouse on a more permanent basis. This means you can drop by our facility anytime and see them!
Table Decorations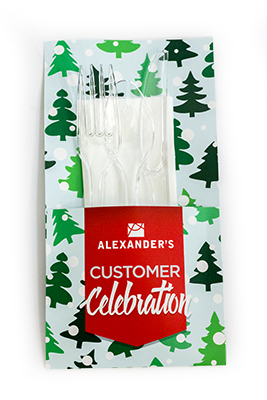 Since we hosted a luncheon, we wanted every detail--down to the utensil holders--to look festive and cheerful.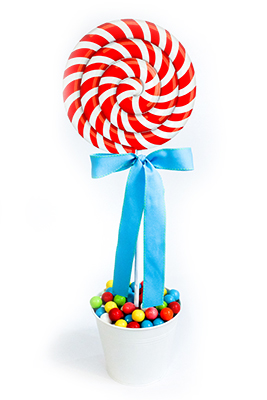 We created these centerpieces using our HP Indigo Digital Presses and finished them with a sweet swirl of MGI digital spot varnish. This added a lot of dimension to otherwise simple decorations. Now these almost look good enough to eat! Luckily, we put these centerpieces in vases full of gumballs instead.
Lunchroom Decor
Naturally, we also wanted to create a holiday atmosphere in our dining areas. Every year, we love decorating our ice and soda machines. While our vinyl-printed soda machine was a little simpler, we had some more fun with our ice machine.
Our snowman referencing Vanilla Ice was printed on AdvanTex using our wide format printer. This almost looks good enough to use year-round!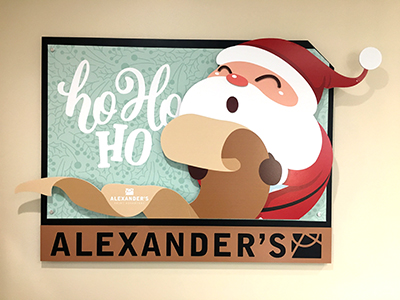 We also created plenty of colorful signs around the lunchroom. These we created using foamcore to make three-dimensional pop art. Though he's a cartoon, that extra dimension gives a little extra life to our cheerful Santa.
T-Shirts
Our employees also got in on the decorating! Using a 4 color print setup, we created event T-shirts for everyone in the building. T-shirts are a great form of advertising and creating unity within an event. Plus, it helped our guests know who to visit for questions or tours.
Remember to join us next week to learn more about the kind of swag we gave away to our attendees!