Peppermint-flavored ice cream and eggnog can only mean one thing; Christmas is just around the corner. With Christmas often comes the dreaded Christmas cards. We all love receiving them, but when it comes time to write, design and send them, it seems like there is never enough time. Well, this year Alexander's is helping Christmas to be a little less stressful.
Christmas Card Fulfillment
The worst part of sending out Christmas cards is pulling out the dusty old address book, finding out who to mail the card to and then painstakingly writing out every address until your hand cramps up. Well this year you don't have to do that.  Introducing Christmas card fulfillment. All you have to do is send us the addresses and the card design. We'll print out your card and mail them for you! That means not only do you not have to risk the chance of having a sore hand for a couple of days, but you also won't have to lick 100 or more envelopes.
Design the Best Christmas Cards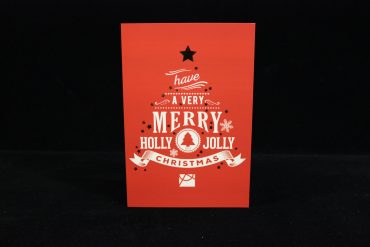 Another struggle of Christmas cards is picking or making your own design. This year you don't have to follow the same boring template that everyone sends. Do something different, something that will stand out from the rest.
Get a "designer" look to your card by talking to our team of designers. They will help you create a card that is unique and special for your family.
Want people to feel connected to your family?
The trick? Foil and varnish. In a study completed by the University of Wisconsin-Madison and the University of Kentucky, researchers learned that people are more likely to feel connected to a brand if the brand engages them through touch. This has implications in the personal world. Want Grandma to feel closer to your family, despite living hundreds of miles away? Give her a Christmas card that doesn't just look good, but feels good too. This can be achieved through foil and spot varnish printing.
This type of printing creates a texture that will cause your friends and family to return again and again to touch your card. The act of running their hands over the cover will psychologically create a stronger link between them and your family, so even if you can't spend the money to visit all of your family across the world, you can still build the relationships you have.
Alexander's can help you create your very own foil and spot varnish cards. Come in for a tour at our location and see how foil and spot varnish is an affordable option for your next Christmas cards. Or you can contact us below to see how we can help you make your Christmas cards special and easy this year.