If you're busy preparing for an art convention, save yourself time and stress by getting your art prints and merchandise all in one place: Alexander's Print Advantage. Though located in Lindon, Utah, we ship all over the state, country, and even internationally to provide you with the quality products you need when you need them.
Recently, artist Desarae Lee dropped by our shop to create art prints and custom art journals for the Salt Lake City Comicon. Desarae creates beautiful and unique art with pen and ink, and she needed a printer whose quality is as great as her work to ensure her customers received top-notch products. Not only that, but with Comicon quickly approaching, Desarae needed a quick turn around without compromising quality. With Alexander's, she was not disappointed.
Create Art Prints
Comicon is home to Artist's Alley, where a variety of artists come together to sell creative works. There, art prints are a staple so that fans can find beautiful products to decorate their homes with.
At Alexander's, you can customize your art prints. Pick size, paper type, paper weight, and your choice of finish to get a professional product each and every time. Not sure where to get started? Learn more about the different types of paper weights here.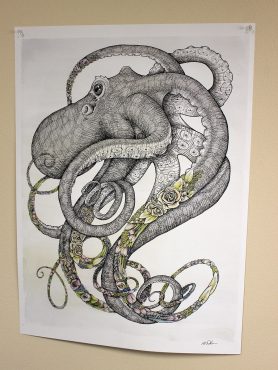 Want to add an extra shimmer and shine to your prints? Make your art interactive by applying foil and varnish. Learn more about the benefits of digital foil here.
Custom Art Journals
Though prints are a Comicon staple, being able to provide additional, unique merchandise is a huge selling point. Consequently, Desarae also created custom art journals. A less common product at Comicon meant higher sales for Deserae, and a print advantage over her competition! Not only do the covers feature her art, but the blank, inside pages make these books a great sketch journal for rising artists!
Here're the journals just before they are trimmed down to size (see an example of the book trimming process here). Remember to design your products with an 1/8 an inch bleed in mind to create a beautiful cut that won't accidentally trim away important information.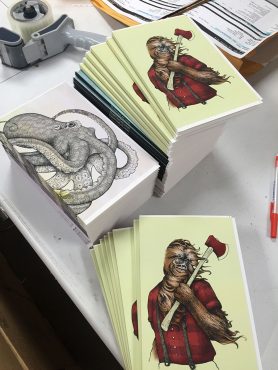 Here's the final product, trimmed down to size. Those rounded corners mean less chance of denting, and a book that is travel-friendly. Additionally, these journals are coated in a satin finish, which provides a soft touch to the cover and an extra layer of protection!
See more of Desaraee's product selection here.
Need More Merchandise?
Alexander's Print Advantage provides a wide range of print products. Print your designs on T-shirts with digital & silk screen printing. Create reusable banners, 3D displays, and x-stands for event advertisement. Even create custom stickers with or without foil and varnish. The choice is yours when you print at Alexander's. Interested in learning more? Contact us today at 801-224-8666 or in the form below to see what Alexander's can do for you.