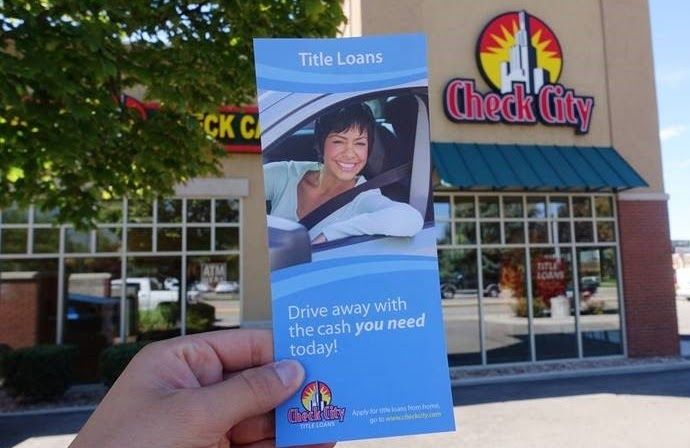 Check City is a check cashing store that offers many different financial services and products. In 1986 they were a simple check cashing store where customers could cash their checks. Now Check City offers all sorts of financial services from title loans to money transfers at over 70 locations.
Check City has been doing business with Alexander's since 2007 and they expect to stay with Alexander's services for years to come.
At Alexander's, your company can expect speed, quality, and trust . Check City is just one of many satisfied clients that can attest to the speed, quality, and trust clients can get from working with Alexander's.
Here are just a few of the many ways Check City uses Alexander's exemplary services:
Customer education
Marketing
Contest entry forms
Buck slips
Pamphlets
Brochures
Signs
Banners
Not only can you get the highest quality prints from Alexander's, but you can enjoy the highest quality service too. The customer service that Check City gets from Alexander's is always exceptional and personable.
Their quick turn arounds and delivery also help Check City's business run more efficiently. Check City always gets their print products on time and in top quality allowing them to effectively run campaigns, contests, and marketing plans.
For instance, our print marketing and educational campaigns for customers have brought thousands of emails from customers that Check City regularly markets to.
The prints from Alexander's also help customers become more educated about their options at Check City. Like getting the word out during marketing campaigns like the Referral Program where Check City customers can get more money by referring friends to Check City.
Check City's marketing campaigns wouldn't be able to reach the customer base that it can without Alexander's prints.
"Alexander's has provided our company print items for 15+ years. If you're looking for quality prints with exceptional customer service, this is your company. Blaine and the entire staff at Alexander's has always exceeded our expectations"
—Craig Hayward, Check City Regional Manager