Decorations help spread the fun and joy of this holiday season. At Alexander's, we love decorating in a variety of ways, but most especially, we love involving print. See how we are decorating the office for Christmas!
Front Desk Decorations
When you first walk into our print facility, located in Lindon, Utah, you are met with a festive spread at the front desk: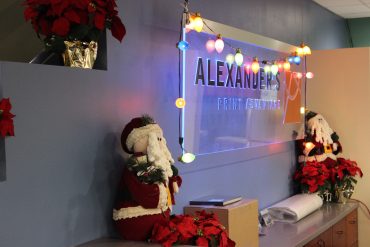 Behind the front desk, we've added lights to our electric, back lit sign to give it a cheerful glow. Poinsettias, stuffed Santas, and Christmas trees continue to spread the holiday cheer. Our most impressive decoration though? Our Santa canvas print banner that stretches over six feet tall! Printed on our wide format machines in two pieces, he really brightens up a a wall that was originally bare.
Conference Area Decorations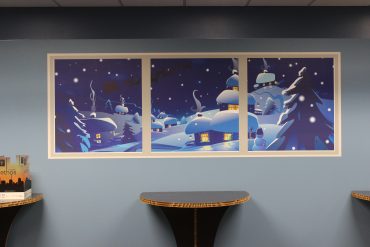 Down the hall a little, in one of our small conference areas, we've added a fun winter window scene printed on vinyl. Printing on vinyl meant we could hang this direction wherever we needed without putting holes in our walls. (Tip: Vinyl makes great window decorations too!)
Break Room Decorations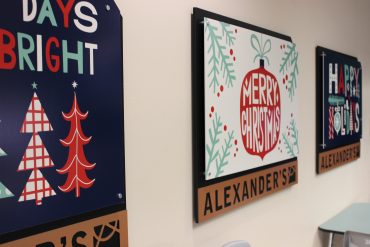 Last but not least, we've turned our break room into a winter wonderland with decorative stand off posters, printed on our wide format machines. These stand off posters have a permanent base, meaning the poster itself can change with each season. Though we'll miss our break room beach theme, the new decorations sure are refreshing!
Need help decorating your business this Christmas with festive print? Contact us to get started.