Alexander's made the headlines again! Or, more accurately, the cover of Printing Industries of America: The Magazine.
Check it out! Jeff Alexander and his sons Nick and Charlie pose in front of our HP Indigo 10000, advertising a study PIA did on our business.
Printing Industries of America
PIA is the largest graphic arts trade association, working to offer its members growth and efficiency. Because of their focus, printers across America can access technology and techniques to grow. The Magazine focuses on technology, solutions, and news to facilitate that profit and growth.
Our Article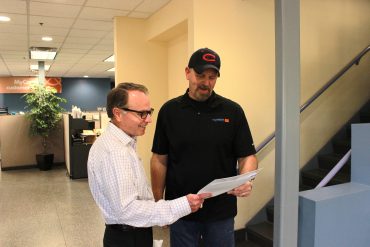 Alexander's Print Advantage appeared in a member spotlight feature. Inside, our president Jeff Alexander explains Alexander's start in print up until the 2000s, when we decided to move to digital solutions. More than that, Jeff tells how our automation has benefited large companies like Dentrix and with the wedding industry.
The article also touches briefly on how we use digital technology in our own business! For example: you're reading our blog right now! We don't shy away from technology to tell our company's story, or yours.
But we also firmly believe that print is not dead. Nor is it going away anytime soon!
VP Doyle Mortimer comments that "ink gets into your blood." And in our case, that's true! Alexander's has been around since 1979 with no plans to slow down. As long as the print industry continues to innovate, we'll be there, finding a way ahead of the curve to grow your business.
Want to see the whole magazine? Download the PDF here!