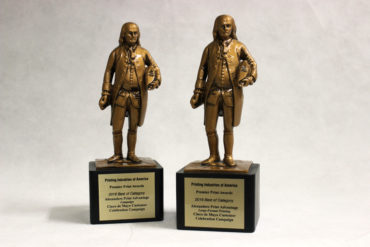 Alexander's takes pride in our work to produce creative, high quality printed products. And to develop creative solutions in print to fulfill our client's needs.  Each year we enter favorite pieces into award shows, such as the Premier Print Awards through the Printing Industries of America. This year we are ecstatic to be awarded two Bennies, or Best of Category, from the Premier Print Awards! Think Oscars, but for print. It's the most prestigious award given within the print industry.
Previously, we won two Bennies in 2016, and are thrilled to be adding the new ones to our collection. Fun fact about the Benny award— it's design and name are based after Benjamin Franklin.
On top of our Bennies, many of our entries received Awards of Recognition and Certificates of Merit.  Multiple of these entries have previously won PrintROCKS! awards. We love seeing them continue to get recognition.
---
And the Bennies Go to…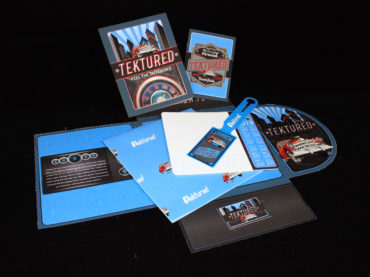 Direct Mail Campaigns, Business to Business
Tektured Sample Kit
Our brand Tektured focuses on providing suppliers with branded promotional products to be passed on to clientele. The sample kit demonstrates many of Tektured's capabilities for product types; i.e. notebooks, luggage tags, folders, and many more options.
We can't forget to mention the beautiful use of Digital Foil, Spot UV, and velvet lamination that give that additional pop, so the promotional products stand out.
You can find out more about Tektured here.
---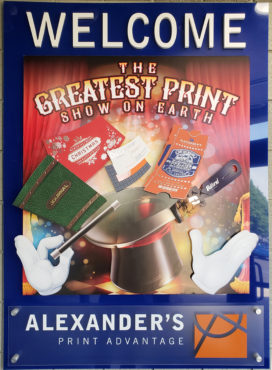 Point of Purchase Materials, Large
Alexander's Welcome Sign
Alexander's POP sign invites clients in to be a part of the magical world of print.  This recent sign certainly showcases the versatility, capability, creativity and passion for print Alexander's has.
---
Awards of Recognition
Alexander's received four Awards of Recognition in the following categories: Foil Stamping for both our Tektured Foil Guide, and Tektured Sample Kit. Promotional Campaigns, Business-to-Business also for our Tektured Sample Kit. And our last one, Media Kits for our Qualtrics Box.
---
Certificates of Merit
The Certificate of Merit was awarded to Alexander's in five different categories. They are as follows: Hard-Cover Trade Books, Journals and Other Books for our Big D Construction Anniversary Book & Box. Posters for IHC Grand Opening Poster Campaign—Set of 4. Invitations—4 or more colors for our Wild for Print PrintROCKS! Party Invitation. Print/Graphic Arts Self-Promotion—Association/Non-Profit Organizations for our Wild for Print PrintROCKS! Call for Entries. And finally, Promotional Campaigns, Consumer for our Legend's Boxing, Boxing Ring.
It's an honor to receive these rewards from Premier Print Awards. Rather than be complacent, this recognition will push us forward to continually find creative solutions for print. We are grateful to be a part of the print community, and excited to see what the future holds for print.