You might remember reading a few posts about Alexander's customer celebration awhile back. To refresh your memory, we decked out our building with Cinco de Mayo everything! From the signs and posters to the foamcore cactus directional sign and mariachi band, Alexander's transformed into a Mexican cityscape overnight. This was all thanks to our print materials and hard working team! We had almost 300 guests attend, and while that was excellent, many of our clients weren't able to come.
Customer Celebration Kits
Because the customer celebration is to celebrate our customers, we felt the need to bring the fiesta to those who missed the party. So what did we do? We created customer celebration kits and sent them out to those who missed the celebration. We packed boxes full of our Cinco de Mayo goodies and shipped them off!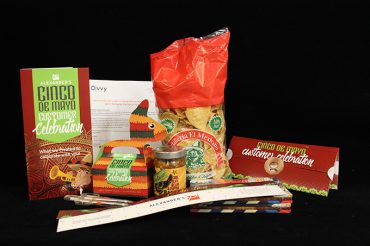 You can see that the tastiest part of the customer celebration kit is the chips and salsa, but what you don't see is the yummy candy packed inside the pinata candy box! Along with some yummy treats, we sent all of the SWAG and giveaway items that celebration attendees could pick from.
MGI JETvarnish and iFOIL Embellishments
You might notice that some of the kit's contents feature a unique and distinct quality: many items are shiny and/or have a raised texture. Alexander's secret to these items is it's MGI JETvarnish and iFOIL Press and HP Indigo printer. The custom journals we sent feature varnish, foil and soft touch, and the celebration-themed invitations and rulers feature spot varnish.
You can see how the distinctness of foil can stand out in your print marketing materials too! We topped the kits contents with a very grateful thank you note to our customers.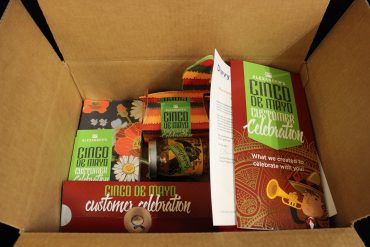 Sending Them Out
Our shipping and fulfillment team bubble wrapped the salsa and any open space to ensure safe traveling. And to warn our customers of the impending fiesta, our team applied a green sticker to the boxes. This sticker featured spot varnish detail and our Cinco de Mayo customer celebration logo.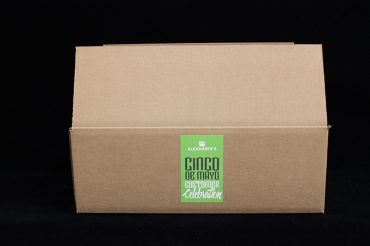 The items in our customer celebration kit are just a glimpse of what we can do here at Alexander's! If you need help planning your next party, creating a kit to send, or anything print-related, call us at 801-244-8666 or fill out the form below. Talk to you soon!