Check out these incredible Halloween lanterns, designed by one of our own team members and made with our laser cutter! Each one of them has a unique design on two sides that appropriately capture the eerie (but not too scary) side of the holiday. The end result looks incredible!
Design process
Our team member wanted something spooky-looking that provided light to a dark part of her house during social gatherings. She designed the templates for each side of the lantern in Adobe Illustrator using vector images. The designer's experience in cutting vinyl helped her determine the level of detail appropriate for this project
Need a project designed? Alexander's has an award-winning, in-house Creative Director ready to help you create the perfect product or design for your business. Ask us about our graphic design work! 
The Laser Cutter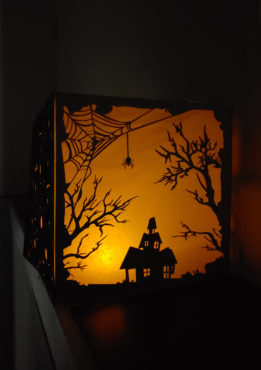 While designing, our team member decided she needed a substrate that could stand up to both the cutting and to the pull of gravity. Some of the elements could be fragile, after all, and she wanted these to be durable for use Halloween after Halloween. Eventually, she decided on a firm chipboard to be able to sustain elements like trees and branches.
However, this created some issues in cutting on the laser cutter. The chipboard was indeed thick–too thick, at first! Those delicate pieces wouldn't come out to create a silhouette.
Not to worry! Alexander's found a solution. The experienced wide format team helped come up with a combination of larger detail and laser power that made the thick chipboard much easier to cut.
Though each piece looks complicated, our laser cutter works fast enough to have each side done in a matter of minutes! Check out the video below to watch the process.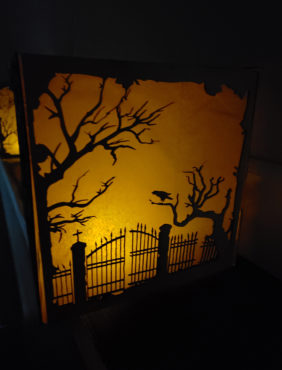 Completion
The designer completed each lantern with tissue paper backing and a flickering tea light. They immediately provided a spooky atmosphere while lighting up a dark staircase for social gatherings.
While their creator used them for Halloween decorations, you can of course use laser-cut lanterns in a wide variety of projects! Design them for other holidays like Christmas, for weddings, or just for home and office decor! What can you do with a laser cutter and a bit of light?
Call or contact Alexander's today to get your hands on the flexibility and ease our laser cutter provides!