Welcome home a loved one or friend with a banner! Missionaries, soldiers, and world-travelers have been away a long time, and need a special reception on returning home. Greet them in full color, whether at home or at the airport, to grab their attention right away. At Alexander's, we can create these missionary or soldier "welcome home" banners and signs on-site and in time for your happy homecoming.
Missionary and Military Banners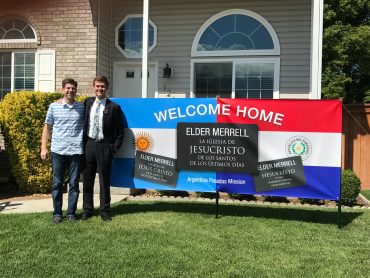 The full-color designs, like the one above, grab your loved one's attention immediately. They'll feel that happy rush of coming home to a glad reception. Plus, you can use this to let your neighbors know someone you love and miss is coming back.
And speaking of neighbors, banners are great for directing traffic to an open house, homecoming event, or reception. No longer do out-of-town friends and family have to wonder which house is yours.
Want it smaller and portable? Our banners are also great for use at the airport when you're welcoming home a missionary or soldier. All that color can help them find you in a crowd!
Multiple Use Banners
Want to use it more than once? Design a banner that is useful for both a farewell and homecoming with just a name and a flag, for example. Sticking to surnames also mean you can use it for all your children going on and returning from missions or military service.
Banner Options at Alexander's
Our rolls range from 100 to 160 feet, but if you're looking for something even bigger, we can create it. We just bind the ends and add on more printed material. This makes the length and height of a banner virtually limitless!
We print on a handful of different kinds of rolls; banner and adhesive vinyl, canvas, and window perforation. That just means there are variations of playable materials that we can use to produce the best product for any situation.
Want a standing banner? Get it with one of our X-Stands. As long as these aren't in a heavy wind, these prominently display your banners whatever the event.
Contact us today to learn more about our banners and how they can enhance your loved one's homecoming!