As the holidays approach, now is the time for many people to plan and throw parties! For many people, a simple Facebook invite will do. But in this digital age, it can be easy to lose track among all those notifications!  For those who can't or won't be satisfied with notifications, Alexander's can provide you with gorgeous, high-quality invitations. Using our technology and talent, your party will look high-end long before it actually starts.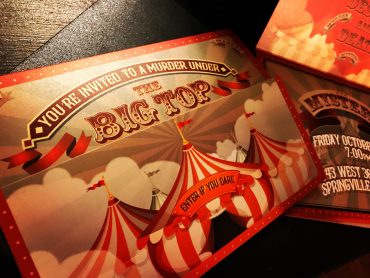 Many of our invitations look much better with foil and varnish for that extra, glamorous finish. However, if it doesn't fit your theme, we have other options to make your invitation look amazing.
For example, we printed this Halloween party invitation on pearl ice cover stock to give it a shine from any direction. Its thickness also works in the effects of touch marketing without adding anything extra. How? Because the paper is so sturdy as well as shiny, people may handle it more just to take in the paper itself.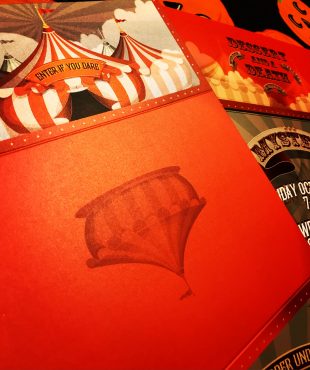 This is important on invitations! When you use special paper--whether it's thick or extra classy--people will touch it more and read the information on it more often. That means it'll be easier for them to remember details like the date and place. You'll have fewer forgetful guests--always a must when planning dinner or seating!
We can print the envelopes, too! Our capabilities mean we can cut them to your specifications on any paper you choose. More than that, our variable data means we can print individual addresses on each envelope.
We'll take it a step further! Alexander's can even ship your invitations out for you! We can mail them out regardless of the number of guests.
Want us to take the hassle completely out of your hands? Our design team can create a design for you like this one that will blow your guests away.
Contact us today to get a head start on planning your ultimate holiday event!