Alexander's is more than print, we give you the Print Advantage. One way to give our customers an edge is to help them produce starter kits, one of the most underused and undervalued marketing strategies today! Starter kits do more than provide information or material, they leave an impression.
Starter Kits Explained
You might remember the post awhile back about the starter kit we helped Fix Auto with. This starter kit in particular was created for welcoming new franchise partners. The kit included a letter from the CEO, pens, mouse pads, on-brand apparel and other promotional items. Other companies create starter kits to demonstrate a new product launch to get people excited and create hype around the business.
As you can see, starter kits can be used for many different things. They are are the perfect opportunity to market your company, product, or service. In general a starter kit is a set of articles or equipment that provides the essential items and instructions needed for a particular activity or process.
Example | Franklin Covey All Access Pass
We have been lucky enough to work with Franklin Covey on several projects. The most recent? The Franklin Covey All Access Pass starter kit. Provided to those who are All Access Pass members, this starter kit includes a welcome letter from the Managing Director of Passholder Services, an informational insert for the members-only online portal, and the Passholder's Guide, a training booklet full of tools and resources.
Packaged in a sleek and smooth-textured box, the All Access Pass starter kit screams sophistication. Can you imagine how exciting it will be for passholder members to receive their starter kit?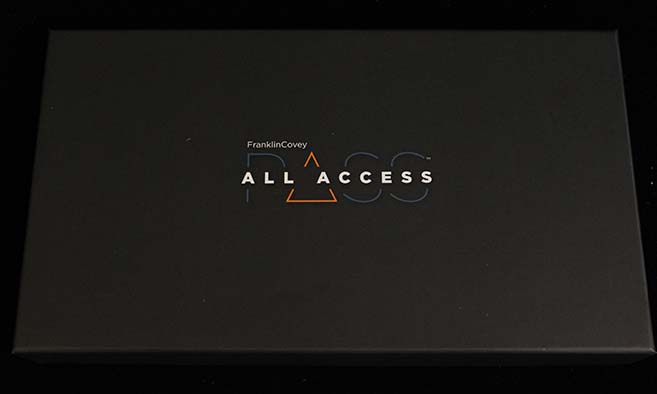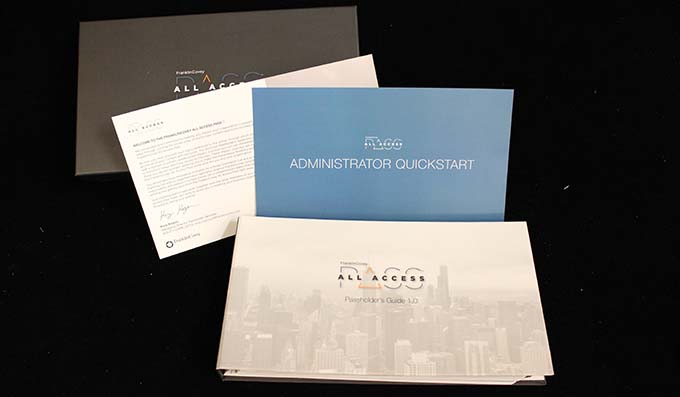 Hard Cover
The training booklet is beautiful, informative, and on brand. Franklin Covey's logo is found on both the front cover and the binding side. Franklin Covey also created a logo for the All Access Pass brand, and it led the inspiration for the booklet cover design: simple and modern. The hardcover features a velvet-like texture, offering a memorable experience to members.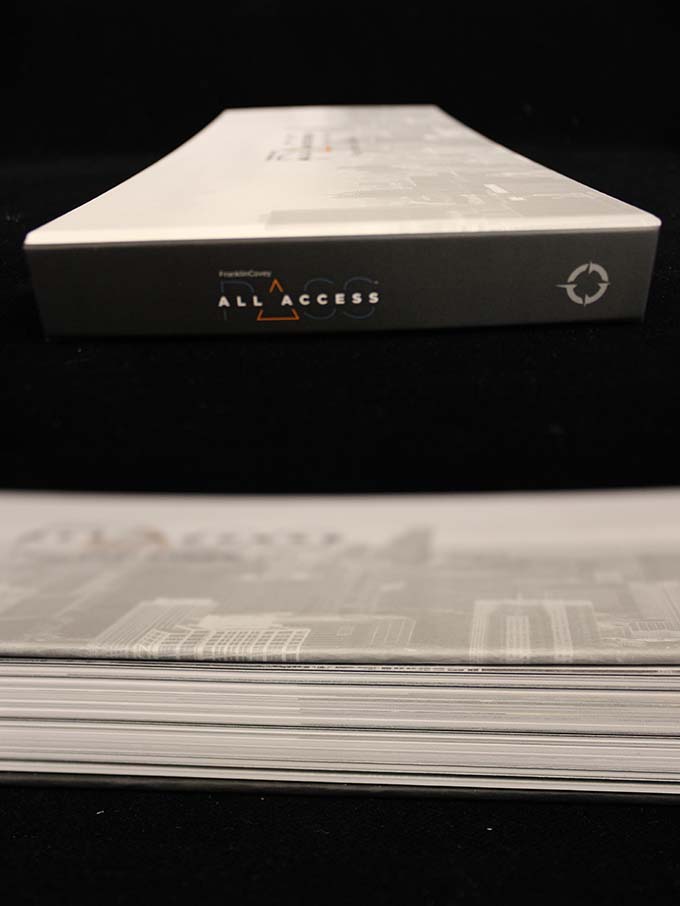 Spiral Bound and Tabbed
These training manuals will see a lot of use and what better way to ensure durability than with spiral binding? The spiral bind makes it easy to lay the booklet flat and flip through pages hassle-free.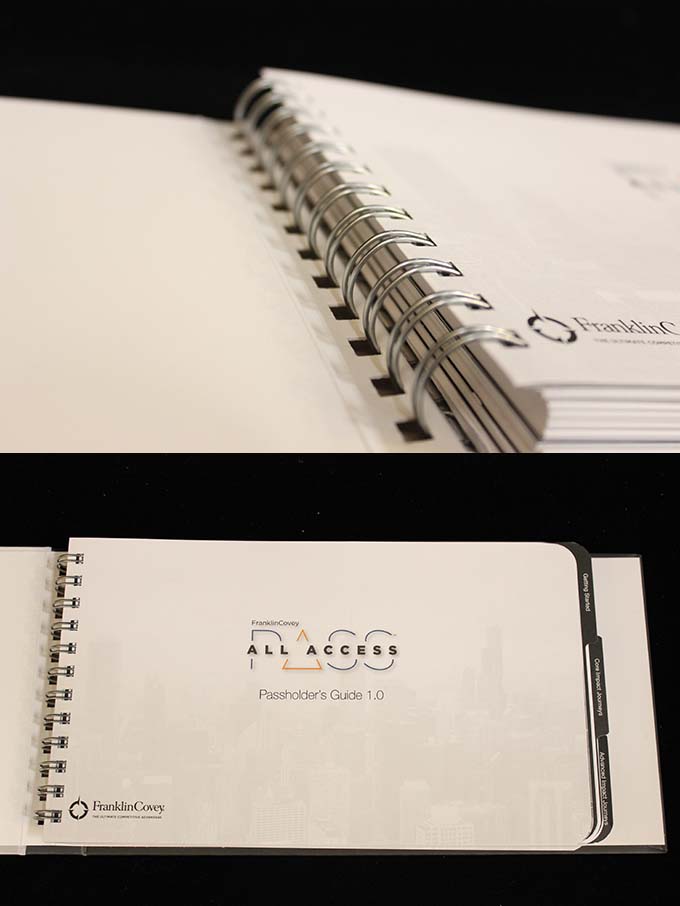 With so much useful information it can be hard to get from one topic to another. Franklin Covey used tabs throughout the booklet to make it easier for the user to find what they are looking for.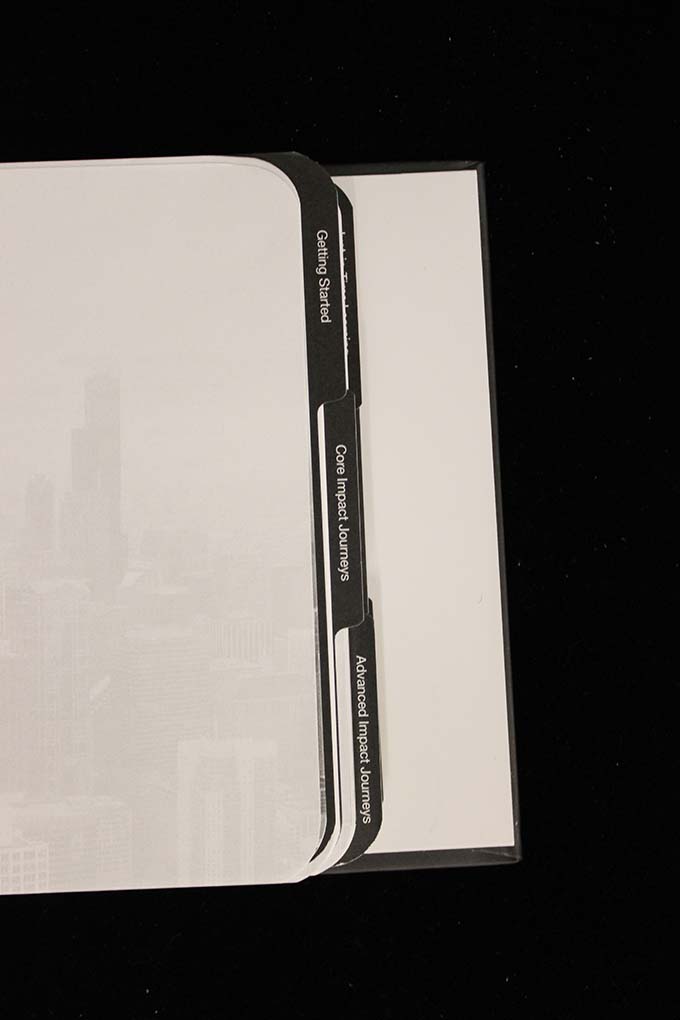 Wrap It up!
And when it's time to send out your packages? Don't sweat it. We do everything from the creative process, to printing, to fulfillment and shipping, all from our headquarters in Lindon, UT.
Check out the packaging process below!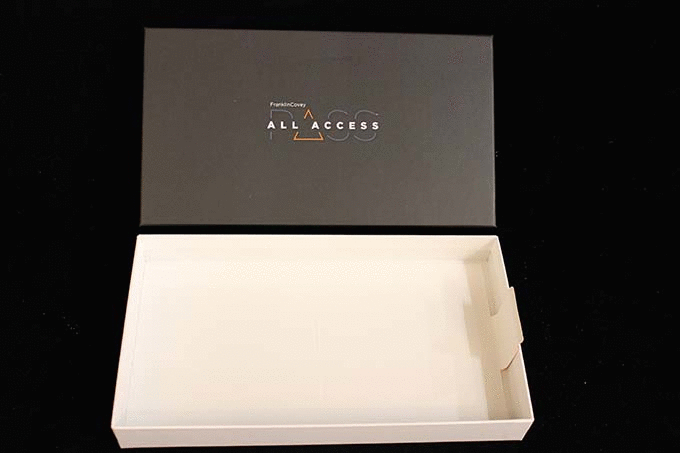 We hope this has helped you spark some interest and ideas into making a starter kit for your brand, company or product. If you are looking for more information, call us! Or fill out the contact form below. We love our clients!