Sponsoring a Golf Tournament
Alexander's took part in the Brigham Young University Corporate Partner Golf Tournament earlier this month. BYU holds the tournament yearly to show appreciation for all of their corporate sponsors. And, as a major printer who works closely with the university, Alexander's participated as the title sponsor for the tournament.
Related: 5 Tips For Planning a Killer Corporate Event
If you're looking to sponsor a golf tournament--or any kind of sporty event for you and your sponsors--look no further!
Signage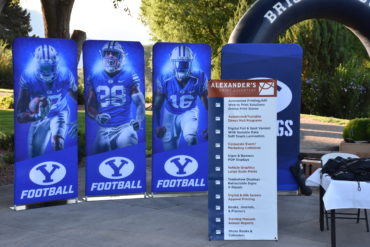 Visuals like signage can be a great asset at events. Visual advertising in a variety of locations not only helps your clients know where to go, but it can be a gentle way to remind them of your products and services. While you're networking later, you might find organic ways to bring them up and establish a stronger working relationship.
Swag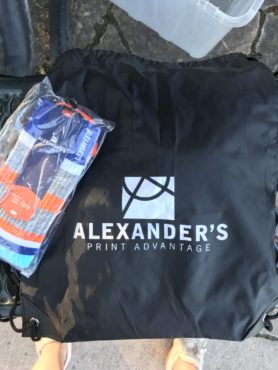 Branded swag is a great way to promote your business long after the tournament ends. You can share everyday-use items like shirts, or items that are especially useful at the event, like drawstring bags.
We screen-printed bags just like this for the event. Plus, everyone needs a new pair of socks, and we threw in a pair that matches our brand colors! It's better than a T-shirt for events, since shirts often go to waste.
High-quality items people will use often keep reminding clients and customers who you are and that the work you do is worth notice. Plus, giving away items at an event can establish positive feelings towards your business.
Hole Activities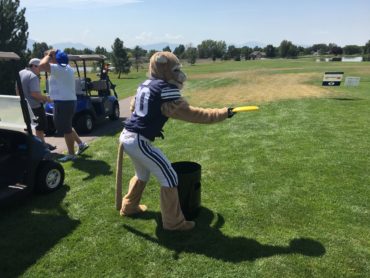 Golfers can spend a great deal of time at holes on the green. Give them something to do while they wait for their teams!
Some activities we did at the BYU tournament included simple games like Can Jam Frisbee Toss, which encouraged participation with prizes at In-and-Out Burger. BYU's mascot Cosmo even took part in the game! Other stations at different holes had snacks and drinks for players to refresh and cool off.
Not only will hole activities be a good way to refresh, but it's also a good time to network and get to know your clients. Having these stations at holes is a good way to interact casually, rather than a forced sales pitch.
Food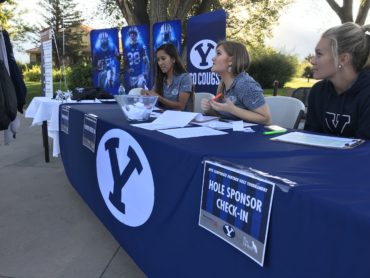 No event is complete without food! Whether you provide a catered meal or snacks, long events require some refreshment to keep your guests going. This is especially true for tournaments like this one that take place outside in the hot sun. You'll at least need to provide water for events like these.
For a golf tournament, provide light foods that don't create a mess. Your golfers will need to keep up their energy without slowing down or ruining their game. The quality of your food will also be an opportunity to advertise for your business and how you care for your clients.
Related: 54-Hole Utah Golf Marathon at Sleepy Ridge
Have more questions about how to manage an event like this? Alexander's can help you with all of your print collateral! Give us a call or contact us today!