What gets people more excited than pizza? Especially if it's delivered straight to you? Pizza gets everyone's attention. That's why we decided to use it for our Divvy campaign inviting potential clients to participate in a demo of Divvy's services. We'd like to introduce you to the first wave of a marketing campaign from Divvy by Alexander's: personal pizza boxes.
The Pizza Marketing Campaign
Personal Pizza: The box
We put a lot of effort into this design. The box uses fake grease stains, as if it had really carried a freshly baked pizza. That kind of attention to detail is enticing enough to get just about anyone to open up the box and see what's inside.
And once you do open it up, you'll see Divvy included a brochure in the shape of a pizza–and the promise of real food delivered straight to your office. Check out this video to see everything we included in the box.
Extra Toppings: Enhancing our print pieces
Successful marketing campaigns include printed pieces that require further handling to get all their information. With a postcard, all you have to do is flip it over, and the interaction with the piece is complete. People quickly lose interest after that. But with a brochure you have to unfold, you can engage a customer much longer. Divvy used this technique on their pizza brochure by folding it up and including information on all sides.
Of course, Divvy also included plenty of spot varnish on both the front and back! It's not just to make the pizza design look tastier; it's to keep customers engaged with the print piece. Spot varnish or foil are great ways to do that.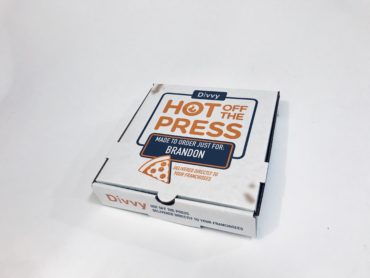 Your Slice of the Pie: Variable data personalization
We used variable data on every box and on the pieces inside throughout the entire marketing campaign. This makes a customer feel as if the business or sales representative is speaking directly to them.
A personalized, laminated letter with more information comes beneath the brochure. The letter not only offers a direct call to action, but offers information in return so that the recipient can get in contact with a sales representative.
Who's Hungry for More?: A final surprise
Finally, how better to make our recipients think of fresh pizza than with a pizza cutter? Including a utilitarian tool everyone will use is a good way to grab attention and hold it. Plus, it serves as a great reminder that free pizza from Divvy–a good excuse to use that new, branded pizza cutter–is just a phone call away.
How will you enhance your marketing campaigns this upcoming year? Share your ideas with us to get the ingenuity and quality you deserve from Alexander's.