It's Christmastime at Alexander's! That means our busy elves are working to create the best printed gifts and cards possible. We've turned our warehouse virtually into the North Pole to get ready for the holidays while also creating unique company Christmas gift box and card designs.
Check out this video to see everything in our Christmas campaign!
Company Christmas Gift Box
Look how beautiful this box is! We use two colors of foil (gold and glitter) and plenty of spot varnish. It makes the nutcrackers' vibrant colors pop.
There's a faint woodgrain overlay, giving the box a carved, rustic look. It enhances the look of the nutcrackers and the Old World town in the background. Doesn't it give you the feeling of old European nostalgia?
We stuff each box with a bag of gourmet popcorn. This required us to troubleshoot and make sure our design was perfect for the product. The rounded top of the box not only enhances the nutcracker look; it accommodates the shape of the popcorn bag.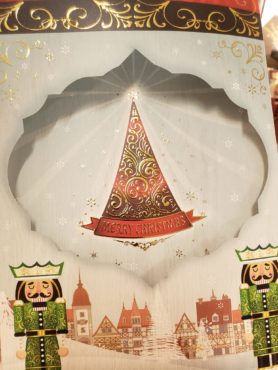 Company Christmas Card
The design uses the same bright colors and design as the boxes, right down to the woodgrain.
Like the box, the card and envelope use foil and varnish. That's right: we can even put our MGI finishes on the envelope. This makes the whole product beautiful right from the start.
Our team cut each card on the laser cutter. This saves us from needing to create a die, and still allows for fast cutting of each card.
We used variable data on the envelopes to supply the name and address of each recipient. Another spot of variable data helped us sort out clients by their contact within Alexander's. This not only kept each member of our sales team from having to sort through hundreds of cards; it helped them give their clients a personal touch.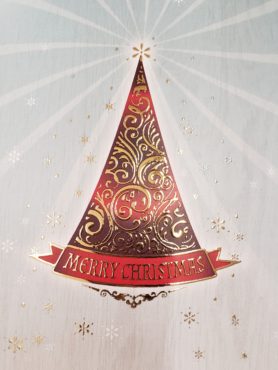 Merry Christmas
We hope you and those close to you have a very Merry Christmas!
As for next year, if you'd like to send out custom designed Christmas cards, wrap with personalized wrapping paper, or make festive packaging contact us. Take advantage of our top-of-the-line printing techniques and we'll help make your holiday season extra special.