Last October, Alexander's acquired a new printer: the MGI JETvarnish and iFOIL press. This industry-changing printer started a new world of touch marketing and personalized print. It is something we are using to give our customers an edge - and we want to help you! There are five things that YOU should know about our MGI. Read them below and allow your imagination to run wild. Soon you will be able to maximize your marketing efforts, too.
1. Variable Data
'Variable data' is a mouthful of words. Put simply, our MGI press allows the power of personalization. Variable data printing allows text, graphics, etc to be changed from one printed piece to the next.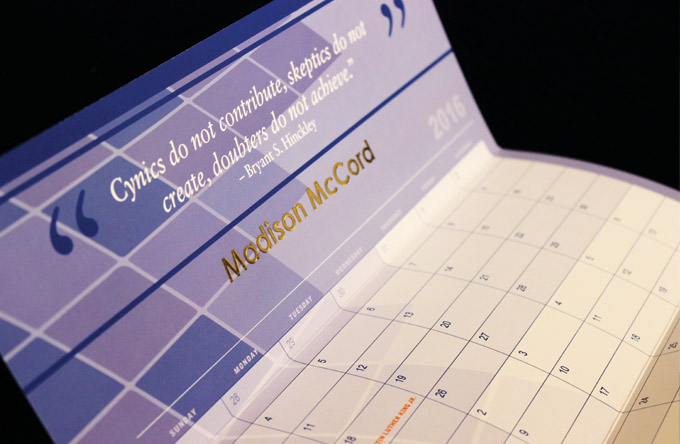 Imagine this: You send out company newsletters to clients. Or maybe you're a bride-to-be ready to send out wedding invitations. Either way (and many other ways!) you can print each client's name on the printed newsletter (see example above). Imagine being a wedding guest and receiving an invitation addressed to you!
How could your company benefit from variable data printing?
2. Faster
The MGI press takes half the time as traditional presses. Why? The MGI digitally applies varnish and foil so there is no need to test expensive dyes, screens or plates. That is how traditional foil and varnish presses work. With these old-school presses it would take days and even weeks to test, approve and print varnish and foils. With the MGI on your team, you can go from proof to print in a few hours.
3. Affordable
With the MGI, you don't have to test all those expensive dyes, screens and plates. That means you don't have to pay for the testing stages. Digital application and print-on-demand makes digital printing as cost effective as bulk printing.
4. Varnish
JETvarnish allows for a new sensory experience. Look at the picture below. The picture on the left looks interesting, but the picture on the right actually stands out to you. That is because the water droplets have been enhanced with spot varnish. It creates a 3D effect and the urge to run your fingers over it.
Our MGI can bring your logos, business cards, and other marketing materials to life. Strongly related to impulse purchasing, increased confidence and affective response, varnished effects release the power and influence of touch marketing.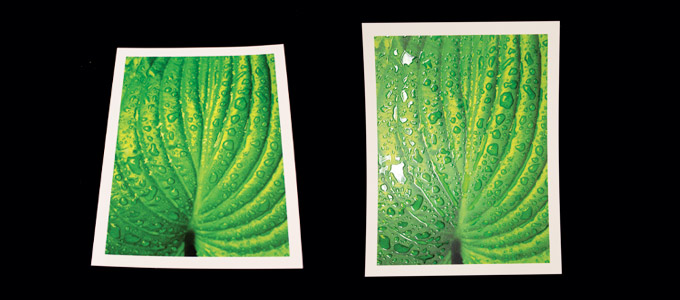 5. Foil
Varnish, however, isn't the only thing that influences touch marketing. Our MGI iFOIL press can also leave a lasting impression. Choose from a variety of colors and enhance your business's print collateral with a shine no one can match.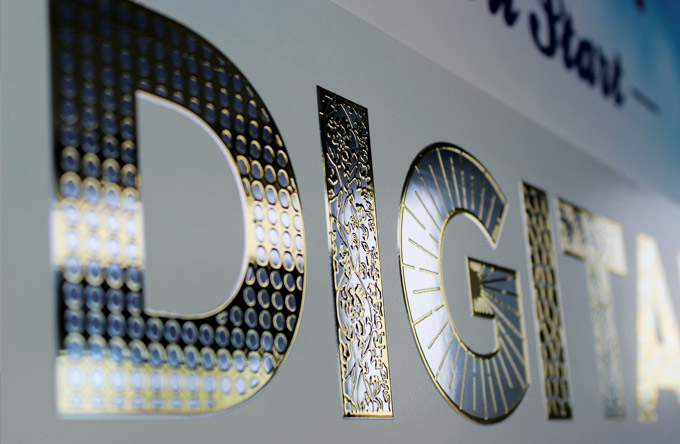 For more information and examples of how the MGI JETvarnish and iFOIL press can maximize your marketing, click here.
Are you ready to enhance your printed collateral with our MGI press? Call our office at 801-224-8666 or fill out the contact form below. We are here to give you an edge that your competitors can't compete with.