The Christmas holiday season is upon us again and it's time to take a break from our crazy lives to enjoy stampedes at Walmart, people fighting over the last TV at Best Buy and UPS trucks driving through our neighborhoods delivering Amazon packages until midnight. The Christmas season also brings the annual pressure to make your gifts better than last year while also being as personal as possible. Etsy shops offering custom wrapping paper might be the solution to the fear of being too basic as it gives you a way to add personality – or your face – to guarantee a unique season of gift giving with personalized gift wrap.
IMPORTANT GIFT WRAPPING NOTICE: If you're a parent, grandparent, attention-seeking college student or just simply someone looking for some cool custom wrapping paper to wrap several gifts in, continue down to see what five Etsy shops we think offer the best personalizable wrapping paper.

However, if you have a client who is looking to customize gift wrap for their business, the Etsy shops below are likely not for you. Instead, you should check out Tektured.com for your wrapping paper needs.
---
Top 5 Christmas Custom Wrapping Paper Shops on Etsy
5. Edible Therapy Design
Style: Photo & Illustration
Custom Wrapping Paper Options: 2
Price: $4 to $6 (Additional faces for an extra $5)
Size: Designed for 11×17 inches
Advantages:
Illustration Option: The Edible Therapy Design Etsy Shop is the only shop on this list to offer a personalized illustration wrapping paper that is based off what photo(s) you send them. This option might especially be nice if you don't have a photo that you're fond of.

Multiple Photos: Customers can add another head to either the illustration or photo wrapping paper options for an additional $5. You can have up to four different heads on the wrapping paper design.

Pet Friendly: Want to customize the wrapping paper with the face of a furry friend? That's no problem for this Etsy shop as they will do both human and pet personalized wrapping paper!
Drawbacks:
You Have to Print it Yourself: Unlike the remaining Etsy shops on this list, you receive a digital file with your customized gift wrapping paper design and have to take it to a local print shop (Staples, Kinko's, etc.) where 11×17-inch paper printing is available. Costs for printing are usually no more than $1 a sheet and it allows you to print as many as you need, but this definitely makes Edible Therapy Design the most inconvenient Etsy shop to buy your personalized wrapping paper.

Limited Options: There are only two custom wrapping paper options available in this shop for potential customers to choose from. If you don't like either personalizable design, you have to try your luck with another Etsy shop.

Small Sheet Size: The 11×17-inch dimension is by far the smallest of the listed Etsy shops. The shop sends you the design optimized for other sizes, but they're for even smaller dimensions!
---
4. Tech Perch
Style: Photo & Personal Message
Custom Wrapping Paper Options: 7
Price: Bundles range from $5 to $20 (Plus Shipping)
Size: Tissue – 12×19 inches; Wrap – 26×13 inches
Advantages:
Tissue Paper: The Tech Perch Etsy shop offers custom tissue paper that can feature a photo or even a company logo. This option is great for those planning on using gift bags that still want to add a personal touch. The custom tissue paper definitely sets this store apart as no other Etsy shop on this list offers this type of product.

Pet Selfie Option: This store has a specific gift wrap design just for your pet! Have more than one pet? This shop allows up to six different photos to be used with your option! Cats, dogs, ferrets or flying squirrels, as long as you send the photo(s) then Tech Perch will put a cute Santa hat on them and put them on the gift wrap with a personalized message of your choice.

Personalized Messages: Almost all of the photo wrapping paper options on this Etsy shop allow you to also add a personalized message to the design along with the picture. This is quite the combo as most of the other stores on this list primarily do one or the other.
Drawbacks:
Shipping: Because this Etsy shop is based in the United Kingdom, all orders being shipped to the United States will cost an additional $12. With the cost of shipping, this is easily the most expensive option on the list.

White Paper: Almost every single wrapping paper and tissue design offered by this shop is on a basic white paper. This might work for some, but it definitely makes it feel very boring and doesn't quite match the festive environment of the holiday season.
---
3. The Enchanted Envelope
Style: Photo
Custom Wrapping Paper Options: 6
Price: $15/15 sheets
Size: 19×13 inches
Advantages:
Best Bang For Your Buck: The Enchanted Envelope offers the most affordable choices of custom holiday wrapping paper as you get 15 sheets of 19×13-inch personalized wrapping paper for just $15. With each sheet coming out to approximately $1 each, this definitely gets you the most sheets of wrapping paper. However, depending on the size of what you plan on wrapping, the number of sheets may not matter since the sheets are not the largest.

Free Shipping: Along with the terrific sheet per dollar ratio, the shop offers free shipping to all orders made within the United States making your dollar go even further.

Multiple Photos: Some of the personalized options allow the customer to add more than one photo to the design for an additional cost. Some gift wrap designs allow for a second picture while others allow up to a total of four.
Drawbacks:
Lack Of Creativity: Compared to the designs of other shops, the custom wrapping paper options in this Etsy shop are very bland. There is no major artistic draw nor is there any humor. For the most part, it is just a basic holiday design with a selfie photoshopped into it. The designs are still pleasant but won't be turning any heads this holiday season.
---
2. Red Barn Canvas
Style: Name & Personalized Messages
Custom Wrapping Paper Options: 9
Price: $15/3 sheets (Bundles with more sheets also available)
Size: 20×30 inches
Advantages:
Various Options: The Red Barn Canvas Etsy shop offers the second-most variety of the shops ranked in this post with nine holiday selections. Choose between custom wrapping paper with the name of your choice integrated with a predetermined design or have a personalized message included on the gift wrap.

Charming Designs: With each of the personalizable wrapping paper options uniquely different from the other, this Etsy shop has an array of fun and crisp designs that could match whatever holiday decor you have at your home.

Affordable Pricing & Free Shipping: Each of the nine custom wrapping paper options are a flat $15 for three sheets. This is fairly well priced compared to the other shops. Add free shipping inside the United States and it makes the deal even sweeter.
Drawbacks:
No Photo or Illustration Options: If you wanted your face blowing raspberries at the recipient plastered all over the gift wrap then this is not the Etsy shop for you as Red Barn Canvas doesn't offer personalized photo wrapping paper
---
1. Hot Tomato Ink
Style: Photo & Personalized Messages
Custom Wrapping Paper Options: 14
Price: $29/5 sheets (Bundles for more sheets available)
Size: 20×29 inches
Advantages:
Most Options: The Hot Tomato Ink Etsy shop offers 14 custom wrapping paper designs, the largest selection of the Etsy shops listed. Custom wrapping paper options include a selfie photoshopped into the design of your choice or having a personalized message included on particular gift wraps.

Funny Designs: This Etsy shop definitely offers the funnest collection of goofy and creative designs that you can put your head or the head of a loved one into. Choose from a Santa hat-wearing sloth hanging upside down to being transformed into Rudolph the Red Nosed Reindeer. There is a fun variety that is bound to match your sense of humor.

Custom Cat Gift Wrap: Hot Tomato Ink has specific wrapping paper just for cats! This fun custom cat wrapping paper puts the face of your feline into a Santa hat and scarf.

Free Shipping: All orders inside the United States qualify for free shipping!
Drawbacks:
Most Expensive: One of the only drawbacks with these gift wrap options is that you have to buy a larger amount of sheets while also paying a little more per sheet than the other shops.
---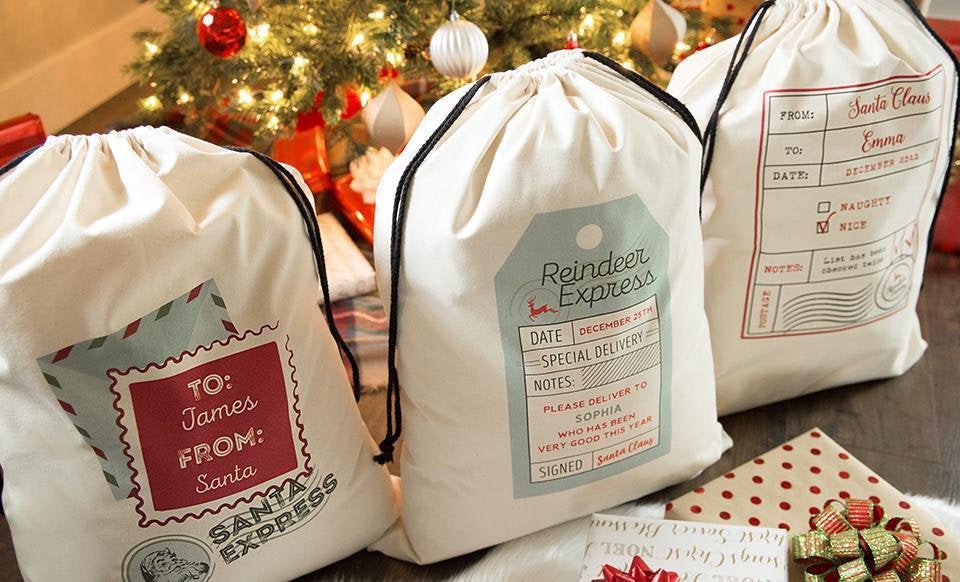 ALTERNATE: Qualtry
If you're looking to conceal your holiday gifts in something other than gift wrap this season, than Qualtry's custom Christmas bags might be of interest to you. The company has an array of designs as well as a variety of sizes for these personalizable cloth bags. All you have to do is just decide on the size of the bag, choose a design and then add the name of who it is for. One of the biggest benefits to these bags are that they are easily reusable for the next year for the same person or to someone else who shares the same name!
Looking for other ways to make the holiday season more personal? Check out the custom Christmas card capabilities that Alexander's offers to businesses and individuals!