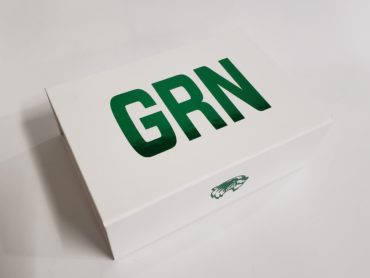 The UVU men's basketball team has begun to attract notice. Their team goes above and beyond expectations in college basketball. Now, this university is doing the same with their marketing!
Utah Valley University wanted to create a special swag box for their season pass holders, and who better than Alexander's to  accomplish it? Check out what we did for these MVP Wolverine fans!
A Courtside Seat Experience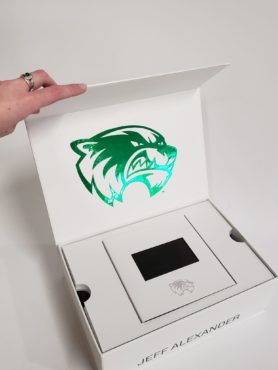 Consistent season pass holders are the kind of MVPs you want to treat. UVU went above and beyond to create this box and the items inside for these dedicated fans.
The look of the box in general was designed by a UVU student. Its design models other sturdy, high-end gift boxes. The front of the box flips open in a "reveal" style. The cool part about the reveal? It's case-bound, just like a hardback book! This emphasizes the clean, quality look.
And with Alexander's technology, the final product looks fantastic! We used green foil to enhance the design, particularly the wolverine logo inside and out. Plus, if you flip it over, you might see a familiar logo in spot UV varnish.
When you open the box, the first thing you'll see is probably the video card. Alexander's designed a section of iCut foam in two layers to house the card. Overall, the first impression is a clean look reminiscent of Apple products. The video card then plays highlights of UVU's basketball team to the tune of Imagine Dragon's "Natural," along with a special message.
What's Inside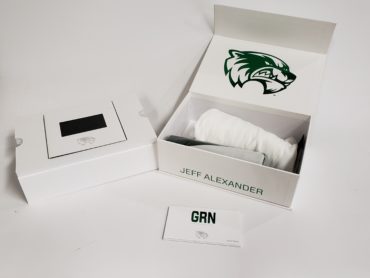 Once you lift out the foam, you'll find a whole spread of goodies inside. UVU's swag includes a shirt and flag to bring to games. Parking at college basketball games can be hit or miss, so UVU has created a dedicated parking pass for season ticket holders close to the UCCU stadium. They've also included a map to locate that spot quickly. For anyone catching up on UVU's recent achievements, the university added a pamphlet printed by Alexander's with stats and information about both the team and the school.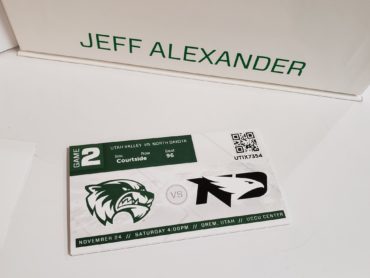 But the truly impressive part? The season tickets themselves. Each ticket set comes in a booklet personalized to each recipient. We used our variable data technology to populate the tickets with:
Seat number, row, and section
Date
Place
The opposing team
Both teams' logos
A personalized QR code to scan at the gate
When you add up the number of games as well as the number of season pass holders, that's a lot of variable data! But Alexander's thrives on finding those creative solutions for our clients, and we were able to rise to the challenge.
UVU understands the importance of reaching out to these most dedicated fans and making them feel like the off-court stars at every game. Season pass holders this year can feel like they're part of the action!
Alexander's excels at creative marketing solutions like these, whatever your audience. Talk to us today to learn how to give your customers the MVP experience.