Alexander's likes to show off our designs--in a good way! To gain recognition, we often submit our pieces to various print competitions. This fall, we submitted several to PrintROCKS!, part of PPI Association. All of our winning pieces placed first in their category!
Just as we wanted to show off our pieces to PrintROCKS!, we want to show them off to you!
Diana Alexander Wedding Invitation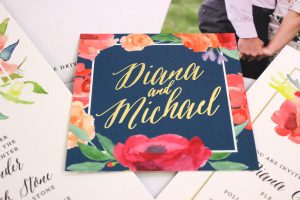 You may recall this invitation set also won a Certificate of Merit from the 2017 Premier Print Awards. It shows how much this invitation really shines when it continues to perform well in every competition!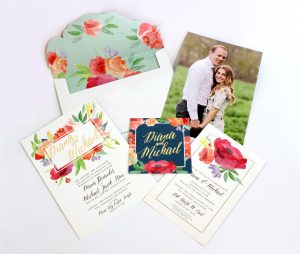 Diana Alexander's wedding invitations combined bright, beautiful floral designs with gleaming pearl paper.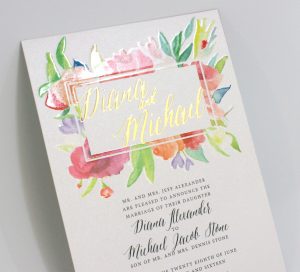 Alexander's topped it off with varnish and foil for an extra glamorous and elegant look.
 Entrata Porsche Box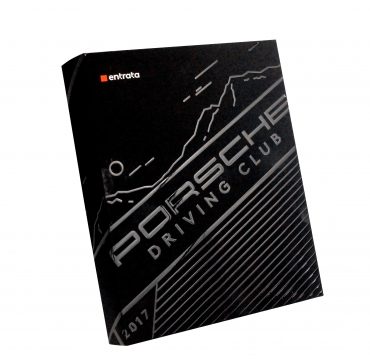 Porsche and Entrata partnered to create a VIP event inviting guests to Atlanta and a premier driving experience. So they needed top-notch invitations showcasing their style and brand. Not only that, they needed packaging that would appeal to these important guests.
We created a completely black box (except for the Entrada logo) with a design in digital varnish. This design looks stunning from every angle, and the black-on-black look makes it look classy--perfect for Porsche.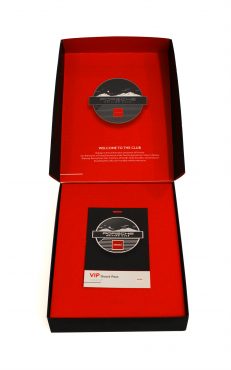 The box had a stunning red interior that let the internal elements pop. It contained a VIP credential and lanyard (not shown) to the Porsche Driving Club in foil on black paper and a brief description of the upcoming event. Entrata was thrilled with our creation--and we think this praise is well-deserved!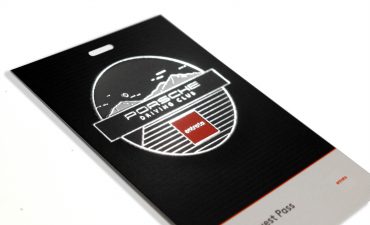 Alexander's Christmas Pop-Up Card
For our Customer Celebration event earlier this year, we created a special pop-up card to announce the event.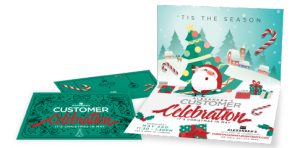 Our custom invitations introduced the look of the entire event with cheerful holiday illustrations. We printed each invitation on our HP Indigo Full Color Digital Press. Then we added digital spot varnish and foil treatments front and back for an extra burst of creative touch marketing.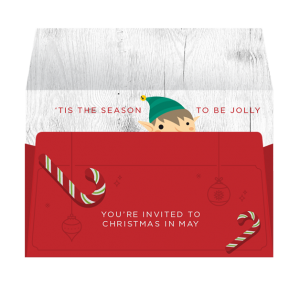 They fit perfectly into beautiful Pearl Ice paper envelopes hit with just a touch of spot varnish. Plus, we added a surprise visitor peeping out of each envelope.
Alexander's Christmas Card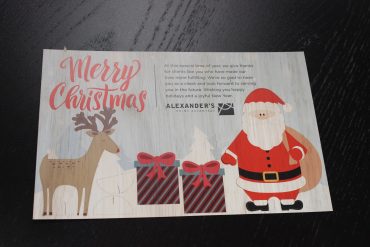 This Christmas card from last year (2016) went out to our clients and now holds a prominent spot on our sample shelf. We printed it to resemble a textured, homey wood grain on a heavy but smooth paper.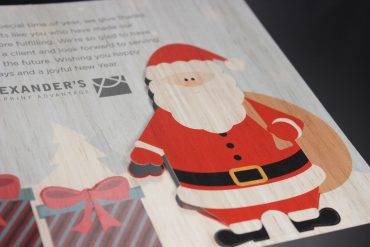 Plus, we laser-cut each invitation so that our images would pop out. Santa Claus, Rudolph, and two gifts just waiting to be delivered can make any desk or shelf festive during the holidays!
Feeling inspired by our success? Let us know what we can create for you! We can print your design or help you create one here. Contact us today to learn more.