Paper Sunday has been selling personalized scripture journals and planners for more than 17 years. However, a wide selection of cover designs and variable information on nearly every page limited production rates. In 2018, the Christian book company could only print 300 books a day at most. With Alexander's as an automated commercial printing partner, Paper Sunday now averages more than 4,200 personalized books a day.
Related: Alexander's, a Leader in Web-To-Print
The Problem: Restricted Production
Paper Sunday offers more than 55 soft-touch laminate covers and almost every page of a book contains a scripture personalized with the name of an individual. With these customized pieces, each planner and journal is unique to itself while making it more difficult to mass print. The process can be very time consuming depending on how a company handles the production of these personalized one-off prints.
The method that Paper Sunday had been using to print the personalized books only allowed them to print a few hundred a day at most. This slow production speed became a barrier to timely order fulfillment and company growth.
The Solution: Automated Commercial Printing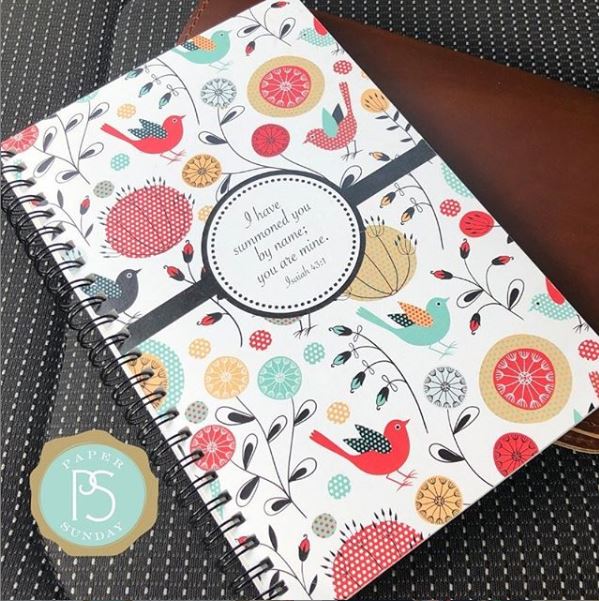 Custom print automation was very unfamiliar to Paper Sunday when Alexander's introduced its software to them. The Alexander's in-house technicians explained the capabilities of the application programming interface (API) and how it would integrate with Paper Sunday's systems. This software could make printing its personalized journals and planners more efficient.
One way Alexander's expedited production is through a system of bar codes. Each cover and set of inner pages has a tiny code that helps properly match it to the other pieces. These codes are scanned throughout the entire production and shipment process to ensure everything is done properly.
With Alexander's as a partner, Paper Sunday gained access to top-of-the-line printers, in-house technicians, and software that ensured all printing was done quickly and correctly. Along with that, Alexander's also took care of packaging and shipping every product directly to Paper Sunday customers as a dropshipping partner.
The Result: 18x The Production Rate
After previously maxing out at 300 books printed a day, Paper Sunday began averaging 4,200 in 2019 with Alexander's. The custom book company even reached as high as 5,500 books printed in a single day – that's 18 times the max in 2018!
Paper Sunday eliminated a major obstacle to company growth through the use of automated commercial printing. The company turned a weakness to a strength with its new capability to fulfill a larger number of custom orders.
Contact a representative to find out how Alexander's and its API technology can improve your business.
Related: Alexander's Increases Efficiency With Horizon SmartStacker