How better to get into the "spirit" of Halloween than to have fun reminders of the season? Alexander's Print Advantage is kicking off this October right with themed Halloween print creations. Want to get in on the festivities? Here are some of the things we're creating this year that you can use for your own business!
This Year's Halloween Print Creations
Office Supplies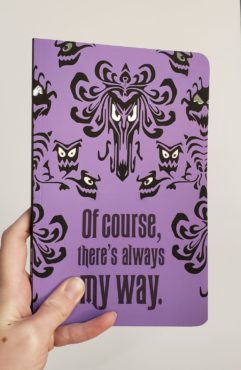 Your team may appreciate items they can use during the holiday to share their festive sides, in and out of the office.
One of our marketing team members created this Haunted Mansion-themed journal with foil for our collection of Halloween print creations. Themed journals like this make great giveaway items or prizes early enough in a holiday season. They also can be a fun way to increase holiday spirit and an exciting company culture.
Naturally, you can create Halloween-specific items like this, or more fall-related products. Make them last a little longer by using leaf or pumpkin motifs instead of ghouls, or stick to a warm, autumnal color palette.
Other things you might try creating with Halloween or autumn styles are:
T-shirts
Sticky notes
Notepads
Magnets
Candy boxes
Bookmarks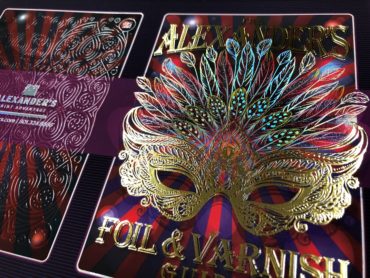 Your fall printing doesn't have to be Halloween-themed, specifically. This awesome new foil and varnish guide may not be specific to the holiday, but it has a flair with the mask that suits nonetheless.
Create something cool for your team members using foil and varnish like this, whether they're into the spooky side of Halloween or not!
Related: Marketing for Halloween
Invitations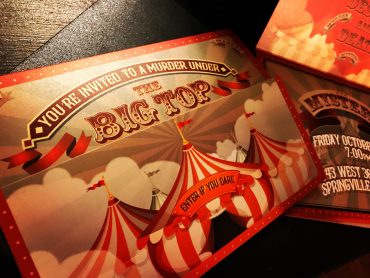 Halloween party invitations are an incredible way to share your event with friends and family! While social media invitations do the trick well enough, notifications might get lost in the shuffle. Unless the text in the social media invitation really shines, it just won't stand out as much. There's a reason brides still send out paper invitations!
These invitations we did last year literally shine on ice pearl paper. Its thickness uses touch marketing, and that combined with the eye-catching design makes them–and the event inside–extra memorable.
If you're throwing a Halloween party this year, come to us right away! Set up the spooky mood for your event with colorful invitations by Alexander's.
Decorations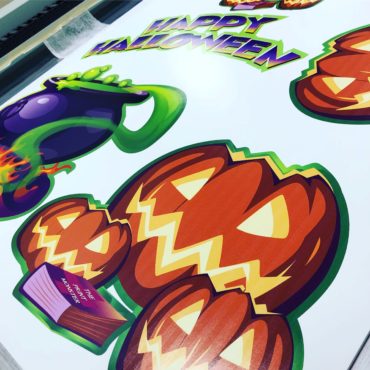 Get ready to decorate! Spicing up your office or workspace can be one of the most exciting things about any holiday, and Halloween is no exception.
Depending on your business, you can lean toward the spooky or sparkly, or focus instead on leaves and pumpkins for a more neutral seasonal look. We're enjoying some festive fun with these new sign elements!
We like using foamcore on these signs to give them a three-dimensional effect. You may have seen our Christmas decorations that use foamcore characters and images to spruce up our office. Using this technique, you can create 3D signs like ours, or characters like playful ghosts for your location.
How will you use Halloween to your print advantage this year? Let's stir up something crafty together!