The COVID-19 virus has caused much fear and anxiety as it has swept across the globe bringing the world and its economies almost to a full stop. It's left people isolated to themselves, scared about catching the virus and worried about whether they'll still be employed at the end of each day. In response to the impact of COVID-19, Alexander's is releasing a series of 10 "Strategies for Success Amid COVID-19" blog posts centered on supporting growth and positive thinking during uncertain times. The series is based around and inspired by 10 strategies included in The "Scary Times" Manual by Dan Sullivan and Strategic Coach.
Each of the 10 blog posts will focus on one strategy for transforming anxiety into positivity and progress. We hope that you can use this series as a resource to find happiness and continue progress during times of uncertainty.
Strategies for Success Amid COVID-19: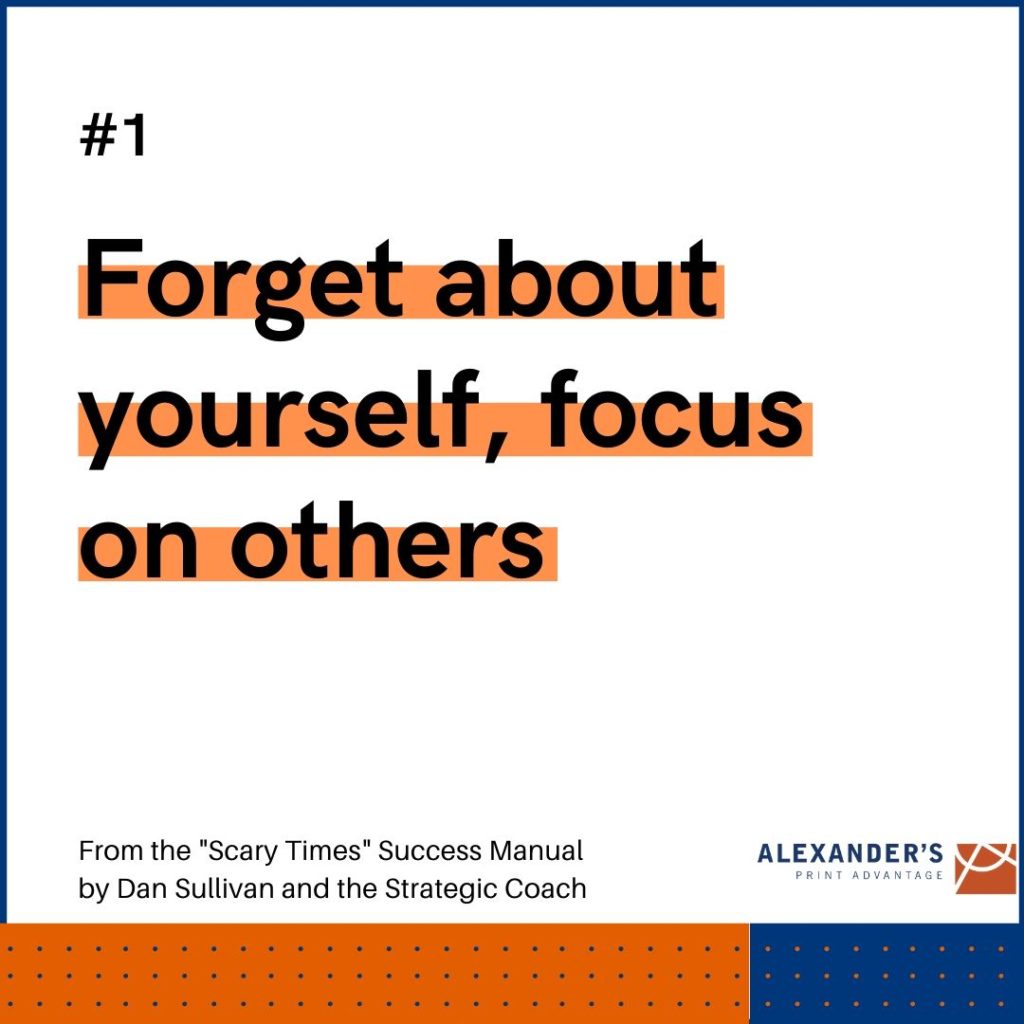 "Uncertainty can drive people into themselves, making them feel isolated and helpless. The best strategy here is to go in the opposite direction, expanding your connection with others – focusing on helping them transform their negatives into positives. The more you contribute in this fashion, the less you will need to worry about your own situation. You will become a source of confidence for everyone else."

– Dan Sullivan, Strategic Coach
Forget About Yourself, Focus On Others
Staying connected and serving others is mutually beneficial for the helpee and the helper, especially during social distancing. Simply making time to talk with someone is one of the best ways we can help others. We're lucky to live in a world that allows us to stay connected with people in more ways than ever before. Most of us have access to video chats, text messages, phone calls, email, social media, instant messaging and many other forms of communication that we can use to interact with others.
With these communication capabilities, we can continue to cultivate our professional and personal relationships in various ways from afar. Finding ways to connect with others shows them that you care about them and gives you the opportunity to help those who might be more vulnerable or have fewer resources. You'll find that as you consistently help others find more happiness and positivity in life that you in turn will find an increase in those aspects of your own life.
We encourage you to commit to finding ways to stay connected with those involved in your lives. Start by making a list of family members, friends, neighbors, work associates, clients and anyone else that you could reach out. After your list is complete, determine ways you think you could bring joy or service to each person. You can always add more names to your list and don't feel limited to only reaching out one time!
To help spark your mind on ways you can support those around you, we've compiled a list of ideas below. While some of our ideas are more demanding or involve giving donations, only find ways to serve others that fit with your physical and financial circumstances.
Ideas on how to support and connect with others:
Check on your neighbors, especially if they are elderly.
Pay babysitters, house cleaners, and others who you financially support even if services have been put on hold.
Provided you are not at elevated risk, offer to go grocery shopping for friends or family who are at risk.
Reach out to those who may be lonely via phone, Facetime, email or Skype.
Write handwritten letters to those that you love.
Host a virtual watch party on Netflix
Initiate a direct message conversation on social media based on what that person has recently posted.
Find games that you can play with others virtually via video calls, gaming consoles, computers or phones.
If you know a health care worker, first responder or someone with an essential job, ask if they need anything.
Make face masks for your family and friends.
Start a neighborhood scavenger hunt by asking neighbors to put things up in windows and in their yards.
Create simple art projects and leave them on your neighbors' doorsteps or send them to local nursing homes.
Order delivery or buy gift cards from local restaurants.
Give blood! The red cross notes that this can be done safely.
Donate to Direct Relief.
Volunteer for Meals on Wheels.
Explore ways to volunteer virtually on idealist.org.
Find your local shelters and donate or ask if they need help.
Support local food banks.
Related: Alexander's Remains Committed To Health & Safety During COVID-19
Not every interaction needs to be a major production. All you need to do is take the time and be genuine in your intentions. Doing those two things will make their day as well as yours. Follow Alexander's on LinkedIn and Instagram as we feature more strategies to transform negativity into growth during COVID-19.
Strategies For Success Amid COVID-19:
1. Forget about yourself, focus on others
2. Developing client and work relationships
3. How to create value for clients
4. Focus on your opportunities
5. Why you should focus on your progress, not your challenges
6. Forget about the future, focus on today
7. Six ways to focus on your future self
8. How to respond to unexpected events
9. Focus on your available resources
10. How to be more grateful