Large format signage has been a specialty for Alexander's from the beginning. Local stores and restaurants began coming to Alexander's for the variety of signage options and capabilities that we offered. Today we supply multiple franchise brands throughout the United States with full in-store displays including window vinyls, table tents, wall and floor graphics, and various pop-up and fabric tension displays. The possibilities for signage--indoor or outdoor--are endless. See what you can do for your business!
Trade Shows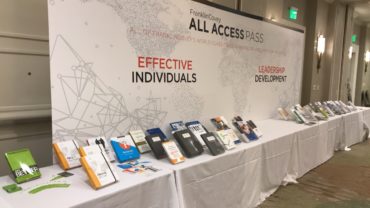 Catching attention at a trade show or convention is essential. Thousands of potential clients walk by hundreds of other booths, and if you blend into the crowd, you'll have wasted your time. Using banners, POP signs, and three-dimensional signs grabs attention right away and helps you stand out from other businesses.
You can also turn your booth into one big advertisement! Our large format printing capabilities can help you build an attention-grabbing booth perfect for any space at a convention.
In-Store Marketing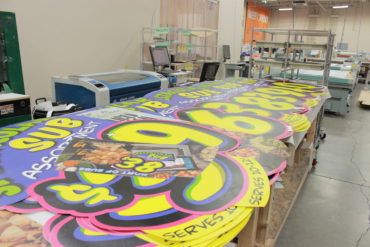 Putting up signs and ads is the best way to share promotions with customers already in or near your store. Within a store, you can use a variety of sign types for promotions and product advertisements. This could be small stands throughout a store, POP (point of purchase) signs for special member deals, and window clings to attract passersby.
Store Decor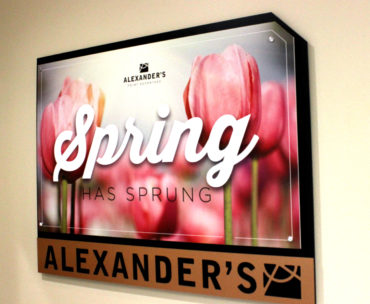 While the primary use of large format signage may be to promote products and services, it has another valuable purpose: decoration. A bland store or office may leave visitors feeling underwhelmed. And they may transfer that feeling onto your products, whether or not they've already bought them.
Office signage can dress up your restaurant, store, or office, whether or not it's a direct promotion of a product. It strengthens your brand and, in the case of restaurants, might get patrons' appetites going for your food. It sets the mood you most want to convey in your brand, and makes your company a better place to work.
Making Your Large Format Signage Stand Out
Large format signage on its own might not do the trick, though. Because it's so easy to create, and because good designers can be found in many places, some signs blend in. You should elevate the look of your signage above your competitors to stand out.
With Alexander's, this might involve using foil and spot varnish to grab attention immediately. Or, you might layer printed falconboard for a three-dimensional effect that makes your large format printing more interesting to look at. Maybe you want to bypass regular signs and go straight for a large, vinyl banner for ultimate advertising effect.
Whatever you choose to do with your signage, let Alexander's help! Large format is our specialty. We'll help you stand out above the rest, no matter your needs.